Hello again magic fans! It's been a long time and I've been very busy, but I thought I'd pop in and give you my thoughts on how green will play in Born of the Gods! All scores are out of five, with 1 being unplayable and 5 being an ideal inclusion in your deck.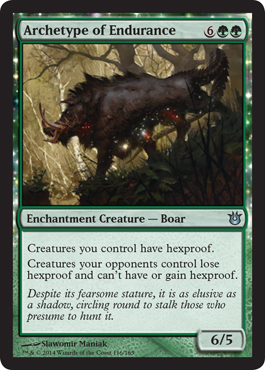 Archetype of Endurance
Limited: 1
Constructed: 1
He's 8 mana, so your opponents hexproof creatures will probably already have you dead before you play him. Without any real re-animation effects there isn't really a way to cheat this creature into play, so you probably won't be seeing much of this boar-ing creature.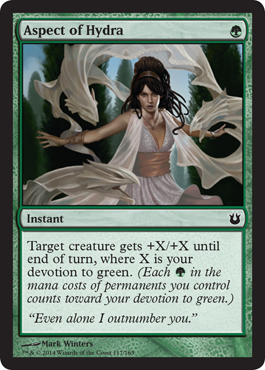 Aspect of Hydra
Limited: 1.5
Constructed: 1.5
This card could be really good. If you can draft mono green this card is awesome. Even if you are heavy green it would be ok. It could really shine in Standard but there are probably better choices that are good all the time then some of the time. The best case scenario I see with this card is an all in attack from you, they block all but the smallest creature, and you pump it up to +5/+5 to steal the game. The worst case for this card is when it will be stuck in your hand while you look at your three white creatures on the battlefield.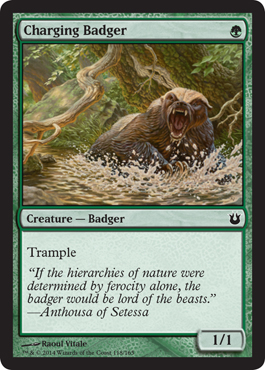 Charging Badger
Limited: 2
Constructed: 1
He's a 1 drop with trample so you obviously need to beef him up. It shouldn't be too hard in limited due to the amount of auras being played. Turn 1 Badger turn 2 Ordeal could be a pretty spicy combo. This is the kind of card that really needs synergy to pull off, and most of the time you will just opt to not include it.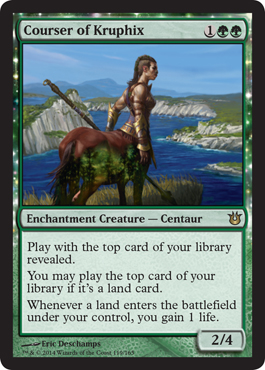 Courser of Kruphix
Limited: 3
Constructed: 2.5
He's got a big behind for 3 mana and he gains you 1 life per land you play. This life gain will certainly set you apart from your opponent, and can turn a race in your favor. Drawing you past your topdeck lands in a late game situation can really put you over the edge in a limited environment, where keeping the gas coming is most important. I can see the synergy with this card and Archangel of Thune working out very well for whoever can pull it off.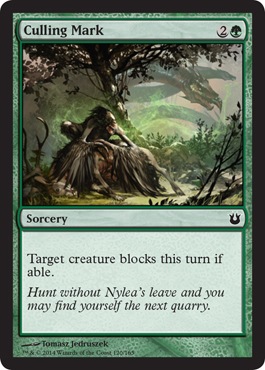 Culling Mark
Limited: 1
Constructed: 0.5
It's almost useless. I said almost. Good in a draft when your opponent has a pesky creature that you want to kill and are short on removal.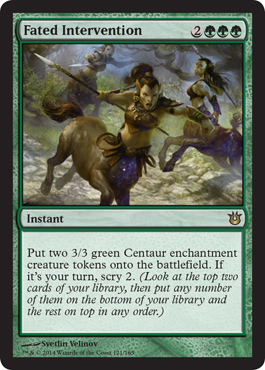 Fated Intervention
Limited: 2.5
Constructed: 2
You need to be heavy green to run this, as it has 3 green mana symbols in the cost,  and it really isn't worth tapping out for. Scrying for 2 is nice but I don't think many are going to play this card on their turn. This can work out very well as a combat trick in limited, as surprise 3/3s can be a major roadblock in that format.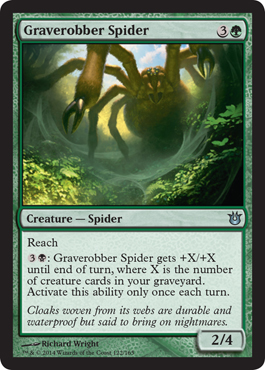 Graverobber Spider
Limited: 3
Constructed: 1
If you aren't playing black he's a regular old giant spider. If you are then he gets a whole lot better. During pre-release I was regularly threatening +3/+3 with this guy in my Golgari deck, and he really makes combat hard for your opponent. There are much better cards over this in Standard and I doubt he will see much play.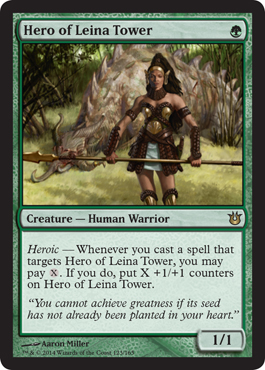 Hero of Leina Tower
Limited: 3
Constructed: 3
This guy is awesome. Essentially every spell pumps this guy up for kicker X. This could be a lot of fun in standard and will be a beating in limited.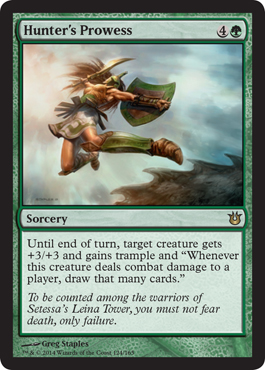 Hunter's Prowess
Limited: 3
Constructed: 1
here are better cards for 5 mana that I would play over this in my standard deck. It's decent card draw for green but it's conditional to damage dealt. Cross your fingers your opponent doesn't have a removal spell.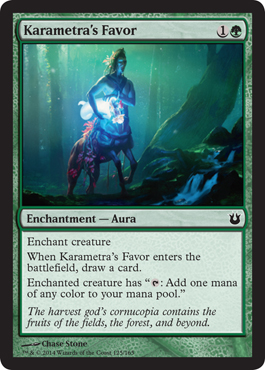 Karametra's Favor
Limited: 2
Constructed: 1
It replaces itself and turns your creature into a mana source. It also helps for triggering heroic, but you generally want to do that with more aggressive auras or bestow creatures.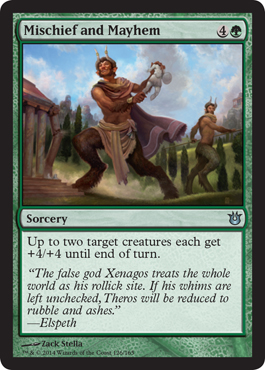 Mischief and Mayhem
Limited: 2
Constructed: 1
It's decent for triggering heroic and possibly the kill. 5 mana for an extra 8 damage is sweet but as a sorcery your opponent has a little more time to react.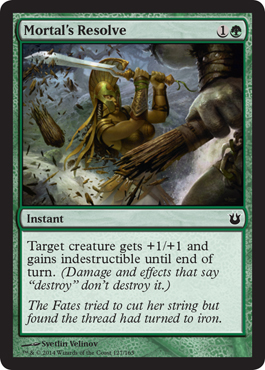 Mortal's Resolve
Limited: 3
Constructed: 2.5
This is a higher pick for sure. Triggers heroic, pumps it up, and makes it indestructible. Many opponents will be mad when they lose their creature in what they thought was a favorable trade. It will also be great for keeping the best guy on your team around after mass removal.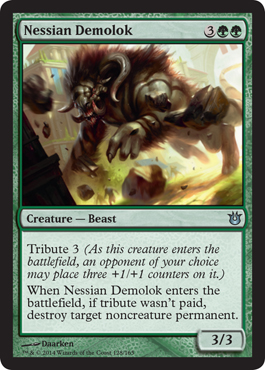 Nessian Demolok
Limited: 3
Constructed: 2
It's either a 6/6 for 5 or a slightly better acidic slime. Either way it's playable. Always keep in mind with Tribute creatures, you're probably not going to get what you want out of them. When you want to destroy Omniscience, you're going to get a 6/6.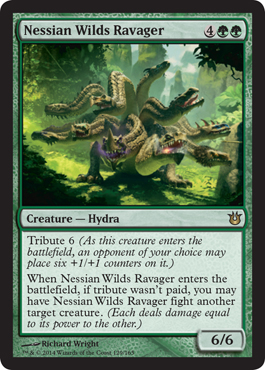 Nessian Wilds Ravager
Limited: 4
Constructed: 2.5
A possible 12/12 for 6 mana. I would deem it highly unlikely that the opponent will pay tribute. I would gladly put a creature in the yard to avoid getting attacked by a 12/12. It doesn't have any protection or evasion or trample, and dies to Doomblade, so it won't be sliding into any standard decks in the near future. It is worth mentioning that this card is especially useful in EDH where you can choose an opponent who will make the choice that you want, most often to kill a creature a mutual opponent has.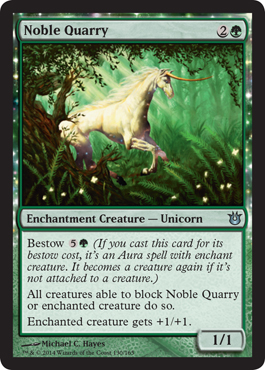 Noble Quarry
Limited: 3
Constructed: 1
They made "Lure" again. This card is very, very good late game. You will usually bestow this on a weak creature and swing for the win with your biggest hitters. Alternatively, you can suit up a fatty or a death touch creature and wipe your opponent's board. Too costly for standard, but a limited house for sure.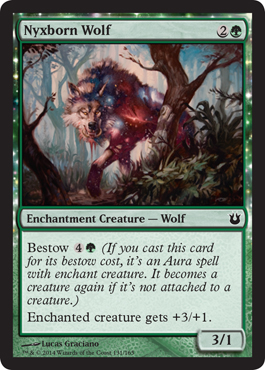 Nyxborn Wolf
Limited: 2
Constructed: 1
He's mediocre. If you are short on creatures then he may make the cut but there are much better choices. Bestow onto a flier or a creature with trample / first strike and enjoy the extra damage. They key with this card is the versatility.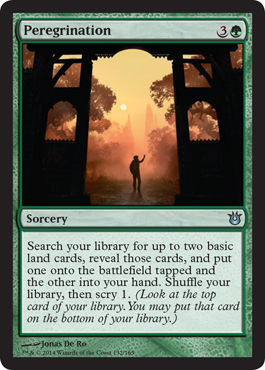 Peregrination
Limited: 2
Constructed: 1
Paying an extra mana for Cultivate isn't cool even if you get to scry for one card. Decent fixer for a 3 color deck in limited, but not much else.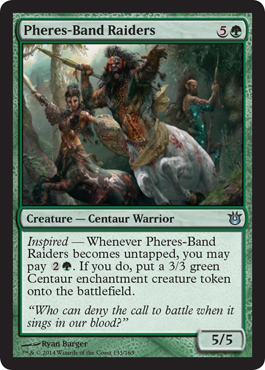 Pheres-Band Raiders
Limited: 2.5
Constructed: 1
I like the inspired mechanic but you have to have the creature go through 2 untap steps unless you can give it haste. If left unchecked this could be very difficult to deal with but at 6 mana your opponent should be able to come up with something.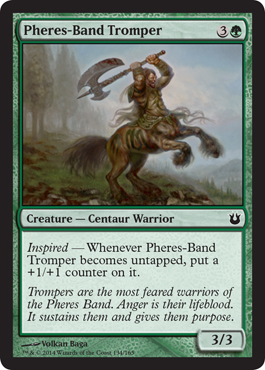 Pheres-Band Tromper
Limited: 3
Constructed: 1
He gets bigger as long as you keep attacking. If you can get him out before turn 4 then he will be very difficult to handle.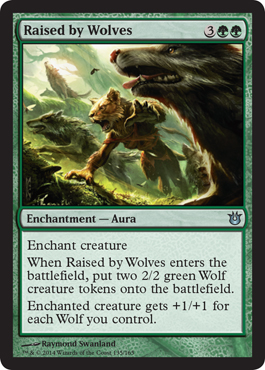 Raised by Wolves
Limited: 3
Constructed: 1
I don't see many tribal wolf decks in the making. It's still a decent card on its own. Essentially gives you 6 more power on the board or more if you actually happen to be playing with other wolves.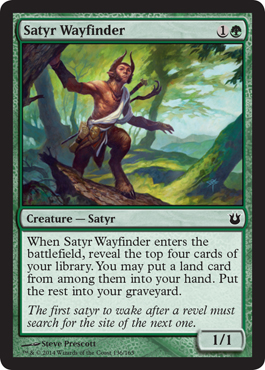 Satyr Windfinder
Limited: 2
Constructed: 2
This is a bad mulch on hooves. Reanimator decks will love him, but will feel bad when they mill their Whip of Erebos, and they will, every time.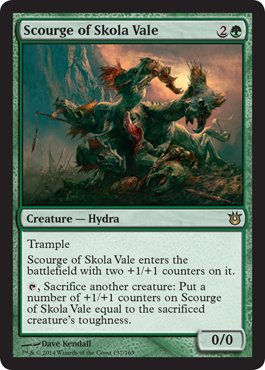 Scourge of Skola Vale
Limited: 3
Constructed: 2
He eats and gets fat. Don't get too carried away trying to make him big and give your opponent time to deal with it. This card is great for blanking their removal spell on something bigger, and turning it into counters for your trampler.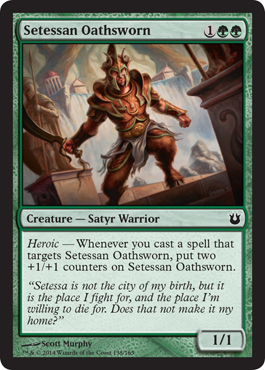 Setessan Oathsworn
Limited: 3
Constructed: 2
He could get really big really quick. Especially with Aspect of Hydra. You need a deck that can really take advantage of his heroic ability with many inexpensive . If you can't he is just going to be a 1/1 for 3 mana turn after tedious turn until you find a bestow creature.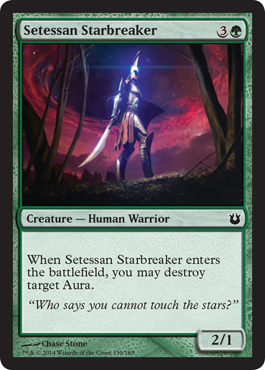 Setessan Starbreaker
Limited: 3
Constructed:  1
Not too bad in limited due to the sheer number of auras that get played but standard will still be better off with Naturalize almost every time. Also, in response to the flavor text, even relatively cold stars are still 2500 degrees celcius… so you better pack your oven mits if you want to feel up a star.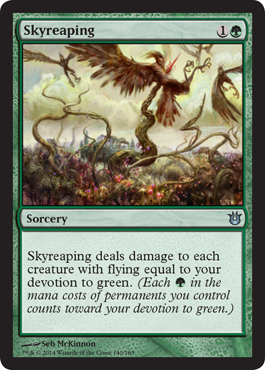 Skyreaping
Limited: 2
Constructed: 2
This is a great way for green to deal with flyers en masse, especially if your opponent is running Archetype of Imagination.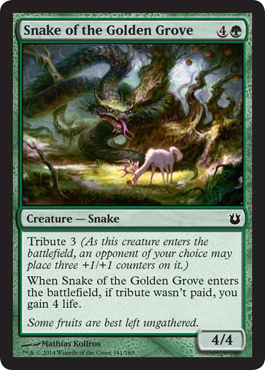 Snake of the Golden Grove
Limited: 2
Constructed: 1
7/7 for 5 mana would be nice but 4 life isn't going to make me want to pay the tribute. This is usually a bad Thragtusk for limited, which is still pretty good. I played two copies of this card at the pre-release and recieved a 7/7 exactly 0 times in 6 matches.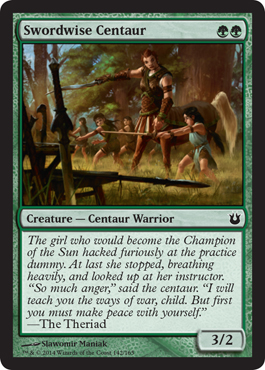 Swordwise Centaur
Limited: 3
Constructed: 2
This is a solid 3 power creature for 2 mana. It will certainly do wonders for your devotion to green as well. This is an excellent agressive creature if you're heavy into green.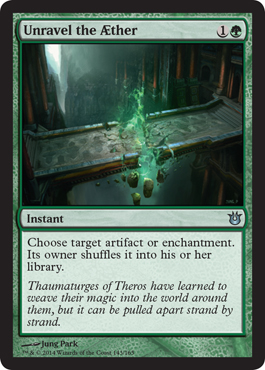 Unravel the Aether
Limited: 2
Constructed: 3
This is a decent replacement for naturalize if Gods become prevalent in the environment. Removing a Thassa, God of the Sea or a Detention Sphere at instant speed seems really good.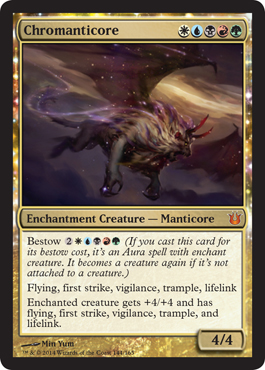 Chromanticore
Limited: 0
Constructed: 1.5
I love that it gives all those great abilities but 5 different colors is a bit out of reach. Will be great in Commander for those who play 5 color decks.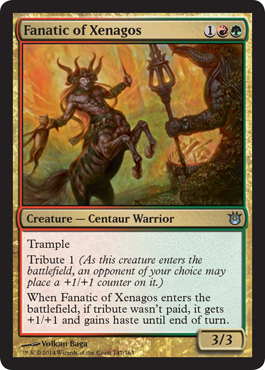 Fanatic of Xenagos
Limited: 3
Constructed: 3
A 3/3 for 3 is great but he will be a 4/4 for at least one turn. Either way this creature will attack for 4 on its first swing.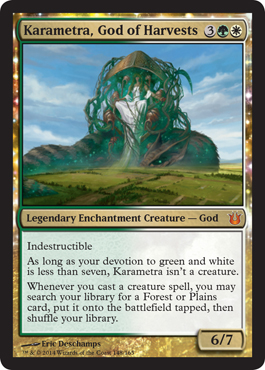 Karametra, God of Harvests
Limited: 5
Constructed: 4
Having every creature spell you play get you a land is awesome. Eventually turning into an indestructible fatty is broken.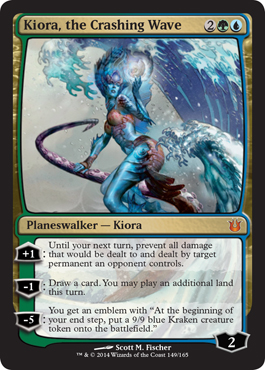 Kiora, the Crashing Wave
Limited: 4
Constructed: 3
I really like this planeswalker. Keeps your opponents bomb at bay until you UNLEASH THE KRAKENS!!!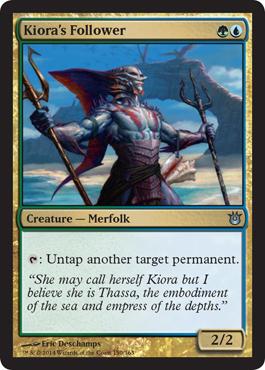 Kiora's Follower
Limited: 2
Constructed: 2
This should work well with inspired but it's 2 colors so you really can't splash it.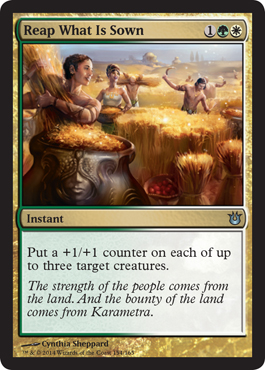 Reap What Is Sown
Limited: 3
Constructed: 2
I like that this pumps your creatures permanently. It will certainly go well with heroic and it's only 3 mana.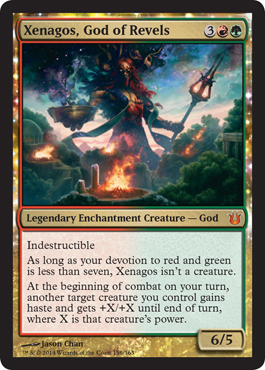 Xenagos, God of Revels
Limited: 5
Constructed: 4
This guy will be a lot of fun to play. Having one of your creatures go on a meth crazed adventure to visit your opponents face every turn will certainly end the game quickly.