Hey there everyone out on the interwebz! Welcome back to my series of articles on Dragon's Maze cards that I will be writing for each day this week. Today is on Boros and Gruul cards, both single color and multicolor, as well non-guild stamped cards that fit the flavor of these two guilds. If you do not get what I mean, you will understand quickly by looking at the rules text of cards and seeing that some of them have Guild Stamps. You probably have noticed them before.
I will give cards a rating from 1-5 for both constructed and limited formats: 1 being basically unplayable, 2 being not something you really want to play but can if needed, 3 being a solid card to play but not always, 4 being a fantastic card that you almost always run, and 5 being an all star (Tarmogoyf for example).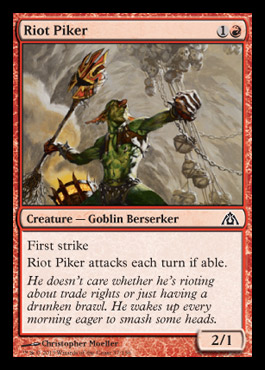 Constructed: 2
Probably will not see play in anything but the most aggressive decks, a decent card to play on a budget.
Limited: 3
This guy comes down and demands that your opponent deal with it. It first strikes which is great and is in good position to come out and wreck the earlier creatures. His toughness is rather irrelevant seeing that he takes out small things with first strike but loses to bigger things anyway.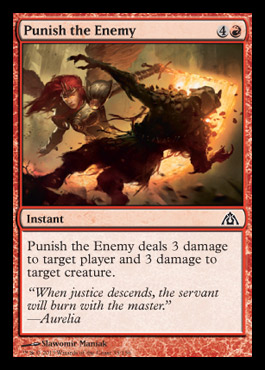 Constructed: 1
Please do not try to play this card here. Just play much better common burn spells
Limited: 3
Removal in limited is very important, and this is decent removal.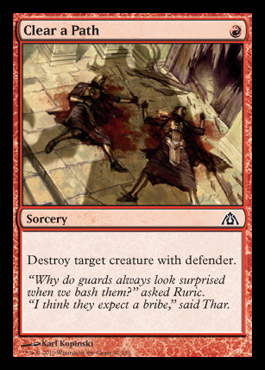 Constructed: 1
Just say no.
Limited: 1.5
You might side this in against a slower deck? I suggest staying away from this card.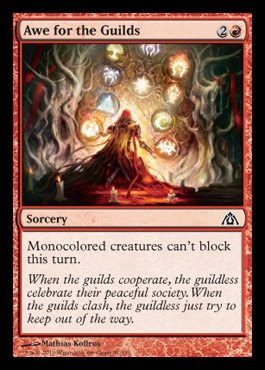 Constructed: 1
Please do not try to play this card, you will be very disappointed.
Limited: 1.5
Maybe you play against someone who is playing mono color deck…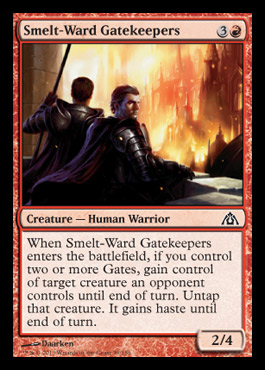 Constructed: 1
Simply not good enough. Just play Act of Treason.
Limited: 3
Works well if you have at least 2-3 gates. The 2/4 body is decent for 4 mana too.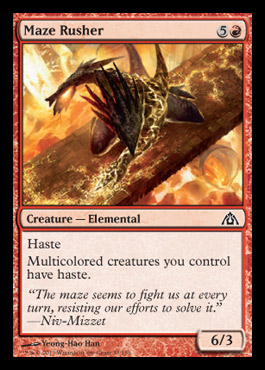 Constructed: 1
Please no, just no. Avoid this card.
Limited: 2
If this guy had flying or something, he could be good. Otherwise this is a subpar haste dude.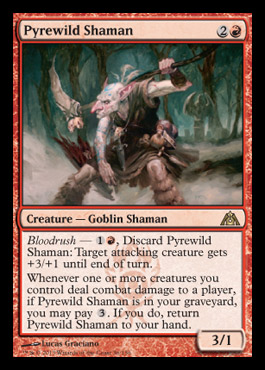 Constructed: 3
I think this card is interesting. He has the ability to reusable pump. However you probably will not be casting him.
Limited: 3.5
This guy can be really good if you can keep getting him back. I would play this card in an aggressive strategy.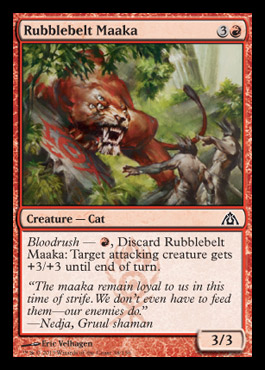 Constructed: 2
You probably will not play this but you could. Not the worst.
Limited: 3
A red Giant Growth for combat is pretty decent to me, definitely playable.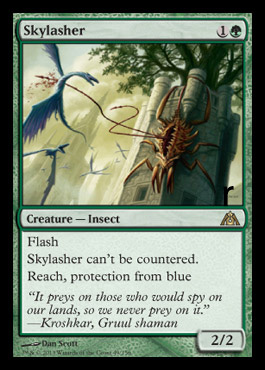 Constructed: 3
This card will see play. Not sure how much, but it will. Pick them up cheaply if you can. Cannot be countered and flash are two very good abilities on a card. The pro-blue is not super great but it could get better.
Limited: 2
Not so great here. Its a flash bear, maybe you can block a Consuming Aberration with it.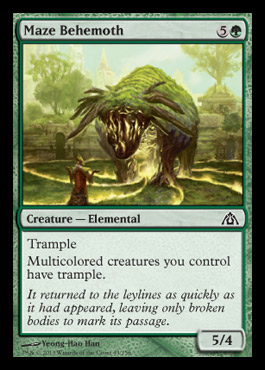 Constructed: 1
Please, just say no.
Limited: 2.5
It is not bad, but it is not great either. Do not pass it up but do not try to force it. It is likely just a body rather than his ability.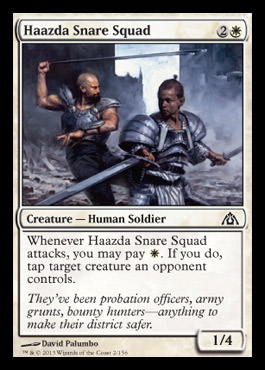 Constructed: 1
Just simply does not do enough here.
Limited: 2
It is ok, but is not wowing me. Against slower decks it is good but worse against aggressive ones.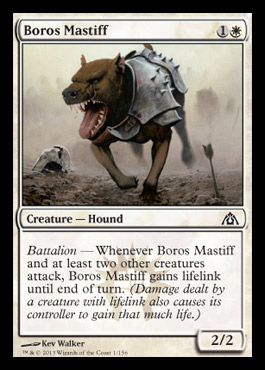 Constructed: 1
Do not play this card, you have better 2 drops.
Limited: 3
2 drops in limited are very important, and his lifelink can be very important against other aggressive decks.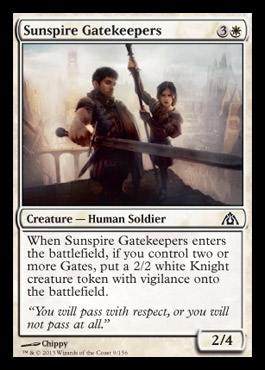 Constructed: 1
There are much better cards you can be playing, not really worth it.
Limited: 3
Solid card, especially if you can make the token. It is likely this card will help you win games.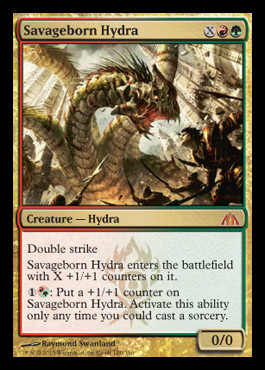 Constructed: 2
It could be good or it could just be another Commander/EDH mythic. Either way, I like it.
Limited: 4
Play this and pump it up, you will win the game if it is not dealt with quickly.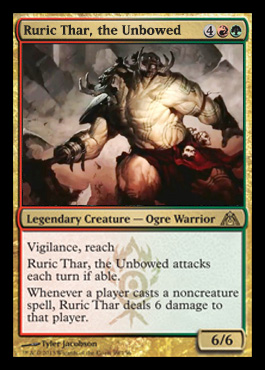 Constructed: 4
This card will wreck slower control decks. Watch out blue players! (I am very afraid)
Limited: 4.5
He will probably win you the game when you play him if he is not dealt with immediately.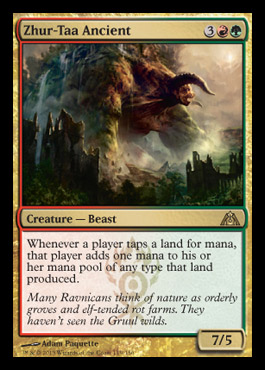 Constructed: 2.5
This is cool for Commander/EDH decks but probably will not see play anywhere else. But do not let that stop you, it is a cool card.
Limited: 3.5
A sweet bomb that is a bomb. You probably are out of cards after playing this guy, so ability probably does not help.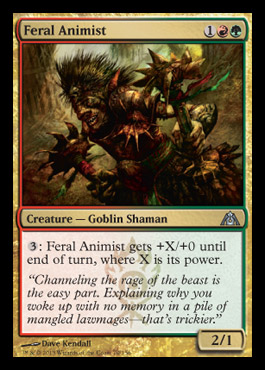 Constructed: 3
This is a sweet card and in the right deck could be very brutal. Good aggressive card.
Limited: 4
This guy gets nuts here if you protect him and utilize him correctly. Open boards makes your opponent cry when facing this guy down.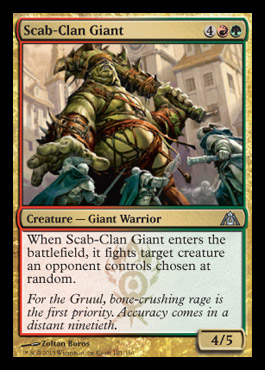 Constructed: 1.5
I suppose this card could be played as a budget bomb removal, but it really is not very good.
Limited: 2
It is better here but still not great because of the randomness of the ability. If it were not random, then it would be a pretty decent limited bomb. Do not play it unless you really want/have to.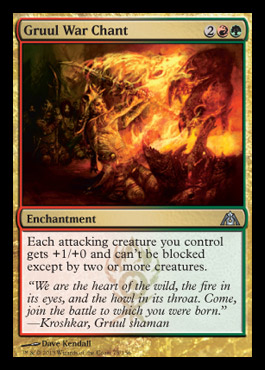 Constructed: 2
Probably not worth playing in a constructed environment, it simply does not do very much.
Limited: 3
Pretty decent here, especially if you revolve around getting more dudes on the board. Could be especially helpful against other aggressive decks.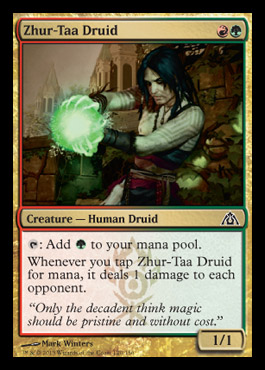 Constructed: 3
I see this card seeing a good amount of play in standard. It both mana ramps you and deals your opponent damage at only 2 mana. Not back breaking but in midrange mirrors, it could be the edge you need.
Limited: 3.5
Same reasons it is good in constructed, just higher rated because this is simply better in limited.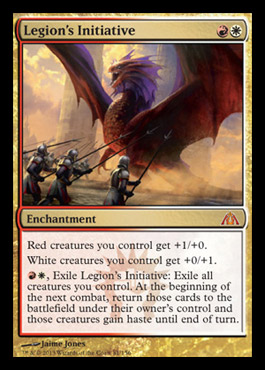 Constructed: 3.5-4
This card is awesome and will see a great deal of play. I personally want to use merely for the ability to blink my dudes away from danger, it is just a bonus it pumps. I shall affectionately call this card Boros Seal.
Limited: 4
Can be an absolute bomb here, especially if your dudes are almost all r/w split dudes. Play this card or go boros if you can support it in any capacity.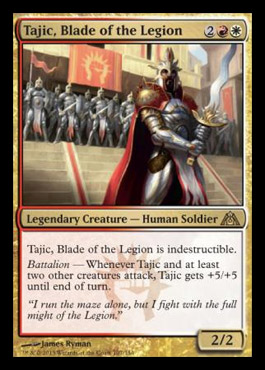 Constructed: 3-4
Time will tell whether this card is decent or amazing. I have high hopes though. Indestructible 7/7 seems pretty good to me.
Limited: 4.5
Anything at a decent mana with the ability to take the game away is good. Add indestructible, it gets even better.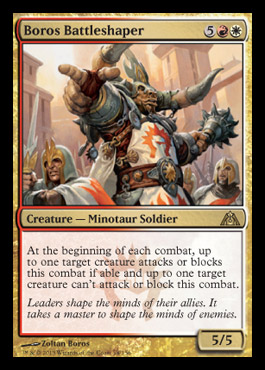 Constructed: 2
Probably will not see play but this card is far from awful. It just does not do enough for it's mana cost.
Limited: 4
Put this in a slightly slower Boros deck and just win when you play this, or most of the time anyway.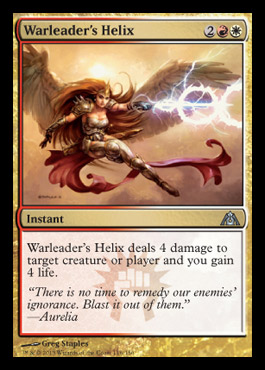 Constructed: 3
This is not Lightning Helix and tries to be. Part of the awesomeness that was Helix was it's cheap cost. This card either needed to cost WRR or deal 5 damage and gain 5 life at it's current mana cost. However it still probably could see play in standard in slower decks.
Limited: 4.5
Very good removal in limited, it's hard to beat in these colors. Play this card and be very happy.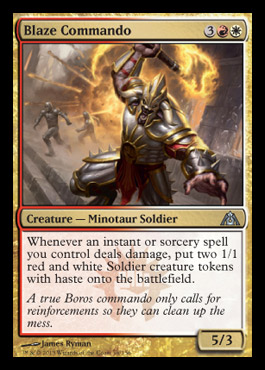 Constructed: 2-4
I have no clue where this guy sits because I feel like there is some sort of abusable combo with this guy. It could be played in a control deck with lots of burn in order to win out through this guy and other slower win conditions, like Assemble the Legion.
Limited: 3
Good body but it could be difficult getting his ability off, not a ton of direct damage in this block.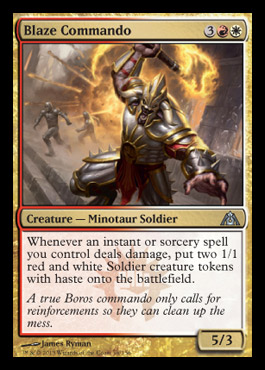 Constructed: 2
Probably not relevant in constructed, but nifty nonetheless.
Limited: 2.5
Slower aggressive decks could like this, but it does not effect the board immediately by itself. It requires other dudes to do anything useful.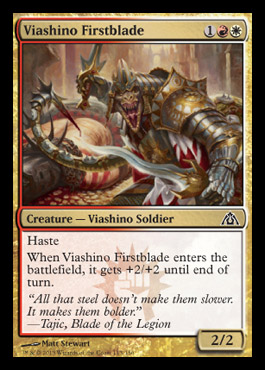 Constructed: 2
This card will play a similar role as Skyknight Legionnaire, but as a ground pounder. Still, right now he is not great.
Limited: 3
You will probably like seeing this guy most of the time, he is much better here.
And that wraps up Tuesday's review of Dragon's Maze! Tune in tomorrow for the next installment.
As always, email, tweet, or comment. They are always welcome.
keithcodyj@limitedmagic.com
@keithcodyj