So it seems I've been tasked with reviewing black in Theros for Limited Magic. Before we get going I'm going to preface this all by saying that I'm not going to pretend to be a terribly competent player of modern magic (not the format, I fucking love the format, but you know, current standard and limited). So I'm throwing my two cents in from the perspective of someone who can't play aggro to save his life, still refers to "the new card frame" and despite having an extremely cynical outlook on the game, I love it more than I would care to admit. I'm going to try to be as objective as possible, but black is my favourite part of magic. The first deck I ever made back in '99 was all about Swamp, Ritual, Phyrexian Ghoul ('cause Hyppies were tough to get in my hometown) then get it in unblocked for a million. So I've been playing black longer than I've been playing combo.
I will give cards a rating from 1-5 for both constructed and limited formats:
1. This card is basically unplayable (see: One with Nothing.
2. You do not want to play this card, but you can if you have to. (23rd card in a limited deck.)
3. This card is a solid choice most of the time.
4. A fantastic card you will always run.
5. A multi-format all-star (Tarmogoyf, Snapcaster Mage, Deathrite Shaman for example)
On with the review:
Abhorrent Overlord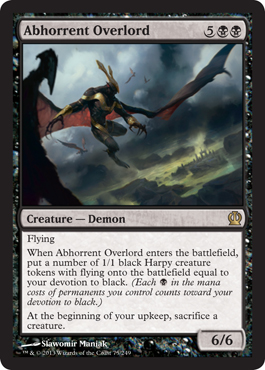 This card isn't terribly impressive. By NWO standards, 7 mana should get you quite a bit more on a creature. I recognize that there is no constructed application for this card, but I think it doesn't entirely suck in limited. A 6/6 flying gets shit done. A 6/6 flying that brings an army of flyers along with it is pretty cool. That being said, I don't want too many in a limited pool but I think it could do work. If I can ever break out of the mindset of trying to make competitive decks and return to "fun" and "casual" magic I'd love to run a few of these guys with Dark Prophecy. Badass. I would have thought this card was the shit back in the day when I started playing.
Constructed: 2 Limited: 3.5-4
Agent of the Fates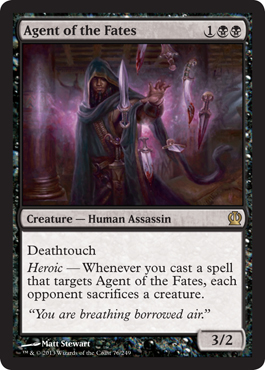 I love repeatable sacrifice effects, but I'm not convinced that black has enough solid heroic enablers to make this really a thing. It's efficient enough as a 3/2 deathtouch for 3 with an upside. I'd like to think this has a place but it kind of remains to be seen how standard stabilizes with the "Magical Christmas Land" mana base stripped out. Maybe this is something that really has a place in a decent (who am I kidding, tier 2-3) deck. As far as the sacrifice effect goes, any of the pump instants and sorceries (which isn't really black's forté) would certainly look a lot better with "…and target opponent sacrifices a creature" tacked on the end. Worst case scenario, you can hit him with an otherwise dead Hero's downfall to clear out something indestructible or hexproof. Is he as good as devour flesh? Maybe, but I think this requires a bit of testing before I say he's good or not. I like it, I'm going to try it in constructed and as far as limited goes, anyone in their right mind would put it in as a 3/2 deathtouch for 3, especially when pump spells are way more of a thing outside of constructed.
Constructed: 2.5-3 (maybe?) Limited: 3.5
Asphodel Wanderer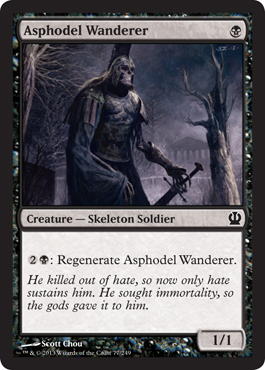 Totally badass reference to the Asphodel Meadows, where "ordinary souls" live after death in Greek mythology, especially since he's just kind of a regular creature. Justification of a boring card with flavor: I like your style Wizards. This is exactly why The Dark is my favourite set of all time. Not all the cards are great, but the ones that aren't you want to play because of how much sense they make within the context of the setting presented by the set. In terms of actual gameplay, he really won't have any use in constructed but could be an enormous pain in the ass to see on the other side of the table during a limited game if you aren't rocking any flying.
Constructed: 1.5 Limited: 2.5
Baleful Eidolon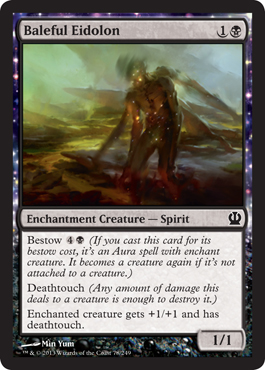 Bestow is something that I don't think I'll understand or really know how to use until I have a bit of experience with it. It's tough to get out of the mindset that "auras are shit, instant 2 for 1" but the fact that the creature sticks around after is pretty awesome. Another card that isn't useful in constructed but pretty cool in limited. It's either two removal spells or one depending on when you play it. The bestow cost is pretty steep but if it's late game he'll always have a place.
Constructed: 1 Limited: 2
Blood-Toll Harpy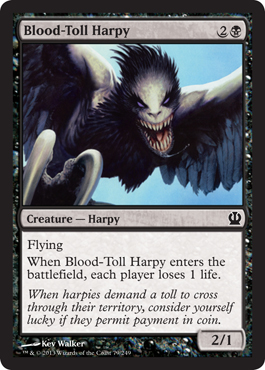 It flies. It'll see some play in limited. If you can't find something better to do with 3 mana in a constructed deck, punch yourself in the dick and look again.
Constructed: 1 Limited: 2.5
Boon of Erebos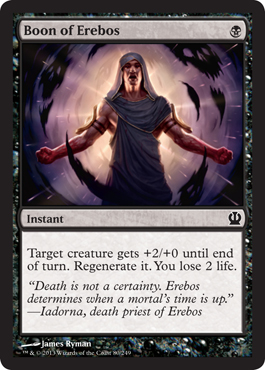 Pretty cool heroic enabler: I like how much life is being used as a resource for black in this set. In limited, this with agent of the fates swinging into something huge is living the dream.
Constructed: 1.5 Limited: 3
Cavern Lampad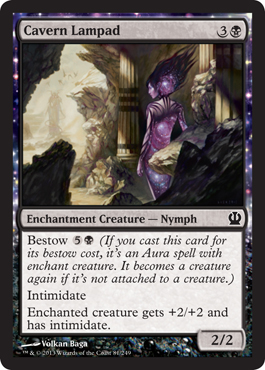 I think this could have a place in limited. It's a reliable source of damage and plays well with the enchantments and pump spells all over Theros. In constructed though: don't play this. Or do play this because if I got paired up with someone playing this card, I'd 2-0 them then take pity on their lack of card pool, give them some cards and help improve their deck. That actually has value because unlike limited, I'm actually reasonably OK at constructed.
Constructed: 1.5-2 Limited: 3
Cutthroat Maneuver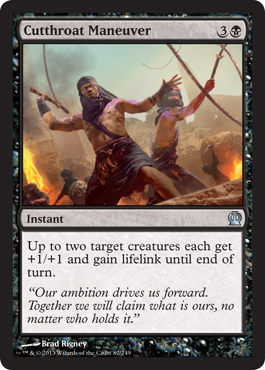 Cool combat trick and heroic enabler but it's a pretty steep cost. Cool in limited: in the right deck it can be a blowout.
Constructed: 1.5 Limited: 3
Dark Betrayal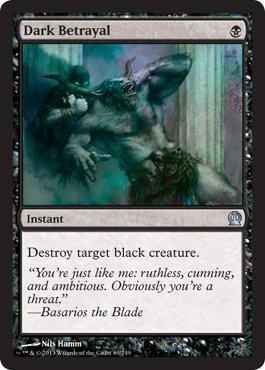 This isn't bad as a sideboard card. Will probably see play, how much depends on what the metagame looks like. It doesn't suck in modern because it gets rid of Deathrite Shaman, Dark Confidant, Olivia Voldaren, etc
Constructed: 3 Limited: 3
Disciple of Phenax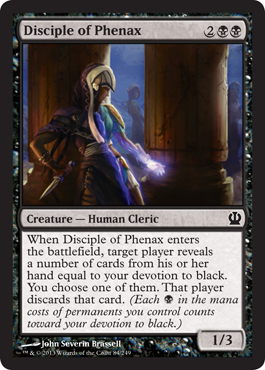 This could be OK. I really like discard effects and in the right situation this could have a place. Not constructed worthy but it's got a reasonable ass on it to sit back and defend limited.
Constructed: 2 Limited: 3
Erebos's Emissary
I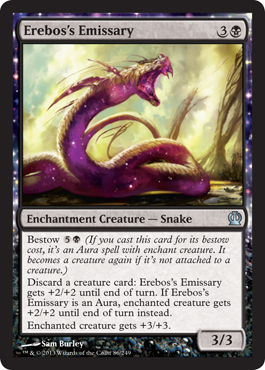 This is pretty cool. Definitely badass in limited but probably not fast enough for constructed. Would be cool to test and build around as a reanimation enabler though.
Constructed: 2.5-3 Limited: 3.5
Felhide Minotaur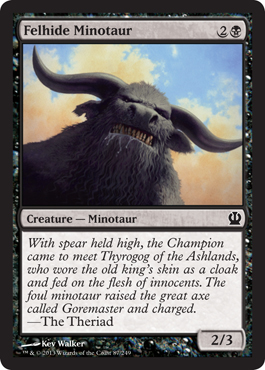 Efficient for black, will see limited play.
Constructed: 2 Limited: 3
Fleshmad Steed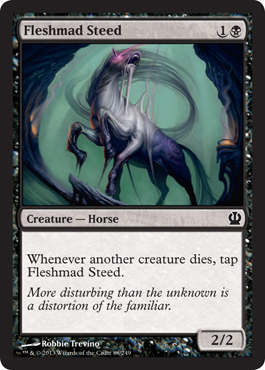 Look at my horse, my horse is unplayable.
Constructed: 1 Limited: 1.5
Gray Merchant of Asphodel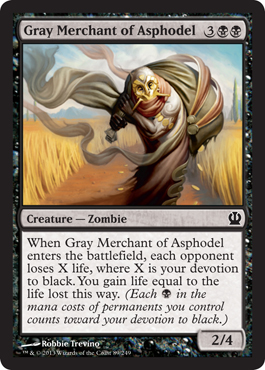 Asphodel again! Awesome. Apart from the reference to Greek mythology, I'd be remiss in not referencing the kick ass UK-based experimental metal band The Meads of Asphodel. Check out the live version of The Grisly Din of Killing Steel for some kick-ass, unapologetically atheist punk influenced black metal. Anyways, with regards to this guy in game: I think he has potential. His ability can certainly be pretty powerful in the right deck. At first glance he kind of reminds me of Bleak Coven Vampires from Scars of Mirrodin. When I first saw that card I though "fuck off, he swings that much life as a common 5-drop?" but quickly discovered how unreliable metalcraft could be for a deck that 1) could consistently support double black on turn 5 and 2) wanted to bother with Bleak Coven Vampires as a 5-drop. I want to build around this card but I really think he gets outclassed by corrupt.
Constructed: 2 Limited: 2.5-3
Hero's Downfall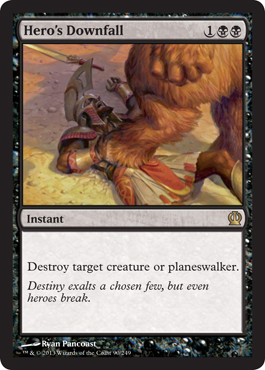 I love it. It's simple, instant speed and gets shit done. This will get standard play, no question. In limited, it's the stone nuts.
Constructed: 4 Limited: 4
Hythonia the Cruel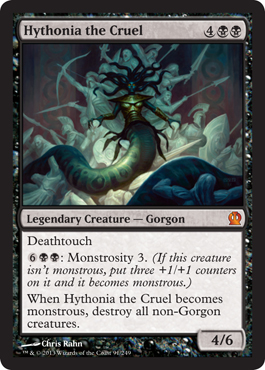 I could rant all day about how stupid I think mythic rarity is, but for now, I will say that this is the ideal mythic rare. It's a legend, it has a huge ability, it's not something that should be running around limited too often, and it is nowhere close to an auto-include utility card.  As far as how Hythionia is relevant to the game, she can really fuck shit up in limited. Pretty much a must kill or you lose. In constructed? Too expensive to do much. Flavor wise? Nailed it. I want to play it just 'cause of how awesome the idea of a legendary gorgon kicking everyone's ass is.
Constructed: 2 Limited: 4
Insatiable Harpy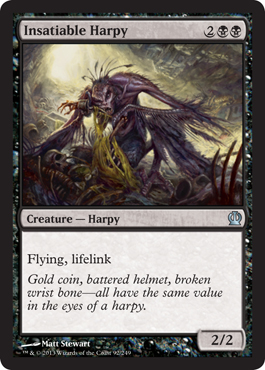 Pretty nice in limited. Not good enough for constructed.
Constructed: 2 Limited 3
Keepsake Gorgon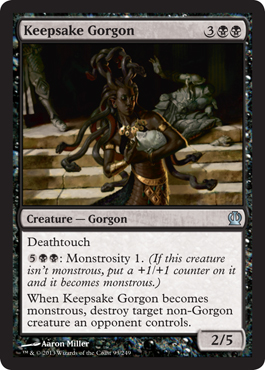 I think this is a pretty solid limited card- it's a 2/5 Deathtouch that basically draws you an instant speed removal spell.
Constructed: 2 Limited 3.5
Lash of the Whip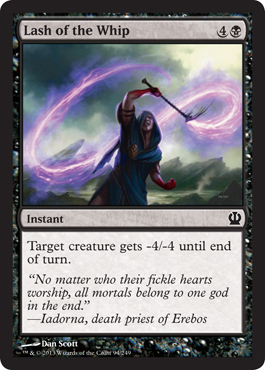 Decent limited removal, and who doesn't get at least a little turned on by the name? Remember when this only cost BB? Oh well, it'll still see play in limited. Too bad it doesn't hit any of the gods.
Constructed: 2 Limited: 3
Loathsome Catoblepas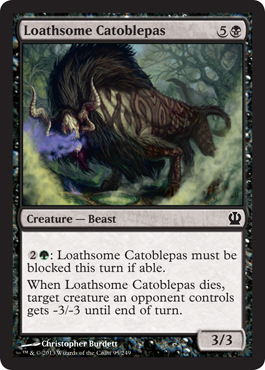 This type of effect can be pretty huge in limited. I like how he sets himself up as a removal spell. Pretty expensive but can swing a game.
Constructed: 1.5 Limited: 2.5-3
March of the Returned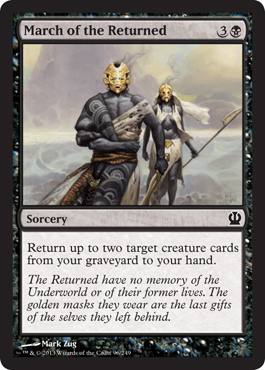 Might get some limited use but nothing in constructed.
Constructed: 1 Limited: 2
Mogis's Marauder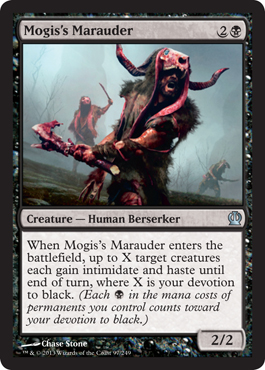 Target player wins target limited game. Seriously this guy is going to fuck shit up when he comes down. It's like Teleportal, if Teleportal also got angry and hit you for damage. Straight up bomb in limited, Might even get use in constructed, not entirely sure.
Constructed: 2.5 Limited: 4-4.5
Nighthowler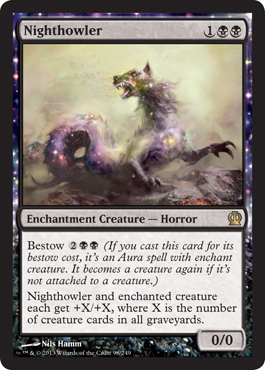 I like this card a lot. I liked Bonehoard and this is really similar. I'll definitely try to make it work in standard. The only unfortunate thing is that we're getting this just as Mutilate leaves standard.
Constructed: 3 Limited: 3
Ordeal of Erebos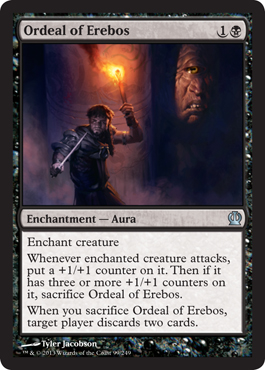 This is pretty good as an aura: it effectively draws you a card and pumps a creature. The only downside is that it's still susceptible to getting 2 for 1'd. I guess that doesn't matter as much with heroic triggers but it still remains to be seen how much of a thing heroic is.
Constructed: 2 Limited: 2
Pharika's Cure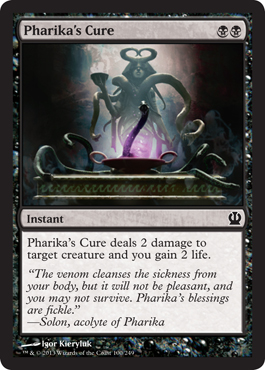 This is some pretty solid removal for limited. Not terribly useful in constructed but it isn't crap.
Constructed: 2 Limited: 3
Read the Bones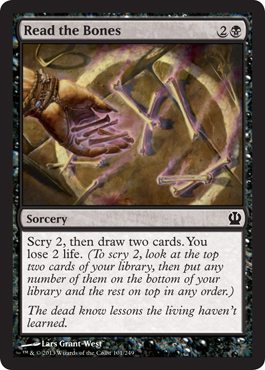 Dear WOTC: I don't always say nice things about you, in fact sometimes I call you "no better than drug dealers who use the same tactics to peddle their highly addictive wares" but this reminds me why I keep coming back to you. In my eyes, this almost makes up for the shitshow (which I could devote an entire article to ranting about) that was from the vault: 20. I love this card, everything about it is just wonderful. The flavor, the effect, the efficiency. Just awesome. This will see play for sure in standard and limited. Personally I'm even going to try it in modern, I like it that much. I just wish it would be in the same standard as a solid black sweeper.
Constructed: 3.5 Limited: 3
Rescue from the Underworld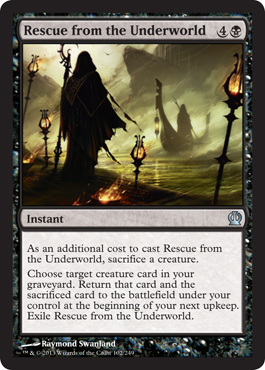 Holy shit the flavour. This is tasty, also pretty cool. With Unburial Rites gone, this might actually be a thing, Instant speed and can activate some sexy graveyard triggers like Ashen Rider. I like it and I think it will see play. Better in constructed than limited.
Constructed: 3.5 Limited: 2
Returned Centaur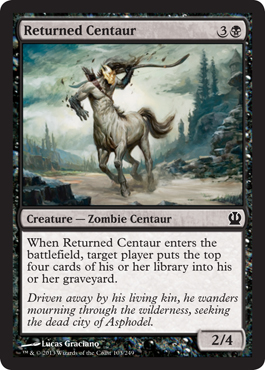 Limited filler.
Want numbers? Roll a D3
Returned Phalanx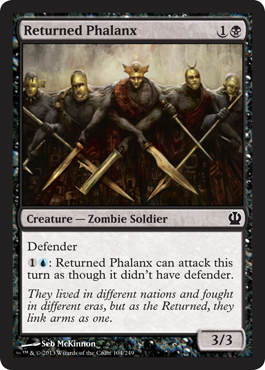 Limited filler.
Want numbers? Roll a D3 again, then next time you look it up roll a D3 again. If it doesn't come up the same number, complain to me about how inconsistent I am with my ratings. I'll probably feel bad and apologize to you because I'm like that.
Scourgemark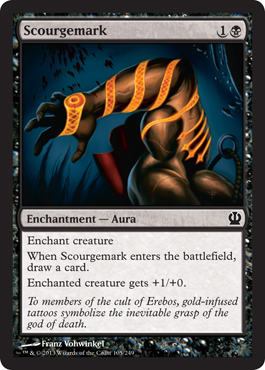 Pretty nice heroic enabler. I've always hated auras because they're a 2 for one for anyone with a removal spell. This pretty much says: Scourgemark 1B Sorcery Activate target heroic trigger. Draw a card. I don't hate it. Its playability is going to be very dependent on how good heroic is in your pool. I don't see much of an application for it in constructed.
Constructed 1.5 Limited: 3
Sip of Hemlock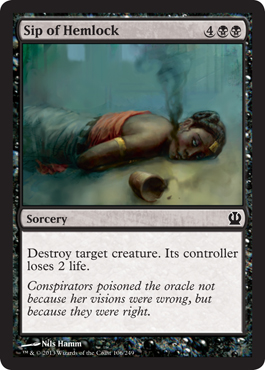 Limited removal spell without any use in constructed. It's not bad since it's unconditional removal and can help push through a couple points of damage. Sign in blood has definitely ended a few limited games in its time so I have no doubt this will too. Gets outclassed by everything else in constructed.
Constructed: 1.5 Limited: 3
Thoughtseize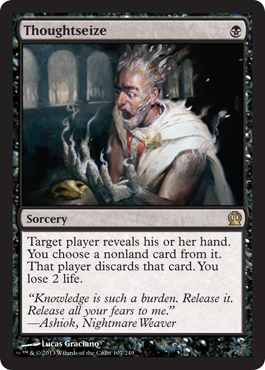 The king of discard. Will it see play? Oh I don't know, ask the last six years of any format ever.
Constructed: 5 Limited: 3
Tormented Hero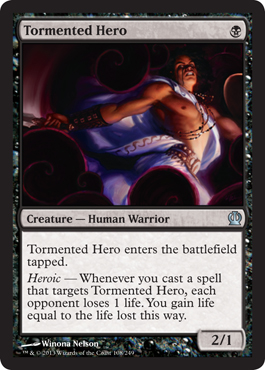 I'm definitely a fan of this card. I think it's awesome to see black get a 2-power 1 drop with a downside and upside that balance each other out. It will be interesting to see, as the format develops, how worthwhile it is to play pump spells or auras in order to get heroic triggers happening. As it stands, this isn't easy to evaluate since it's on fairly untested ground, but it's a nice efficient creature for sure.
Constructed: 3 Limited: 3
Viper's Kiss
 I definitely like this card. Very nice balance of being a kill spell and having some sort of hard removal. I'd be surprised if it doesn't see both constructed and limited play.
Constructed: 2.5-3 Limited: 3
Ashen Rider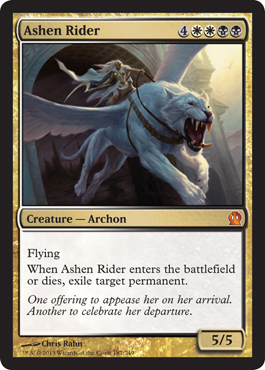 Angel of Despair is back with a bit of an upgrade for only one more mana. Pretty solid card, will definitely replace Angel as an anti-Show and Tell trick in legacy and will definitely be a multi-format reanimator all-star. Personally, I see it as a great pair with Makeshift Mannequin in modern. Go ahead. Target it. In limited, it's a 5/5 flying stapled to a Vindicate. Could you ask for more? You could, but you'd be a dick.
Constructed: 3.5 Limited; 4.5
Ashiok, Nightmare Weaver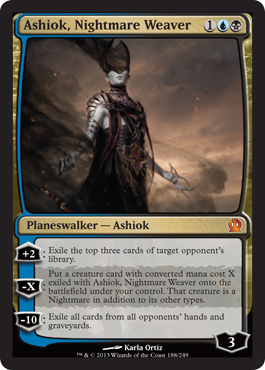 Let's see; Does he protect himself? No. Does he have a measurable effect on the game when he comes down? No. As cool as I think this is, I can't believe it's going to get much action in constructed.
Limited: 2 Constructed: 2
Kragma Warcaller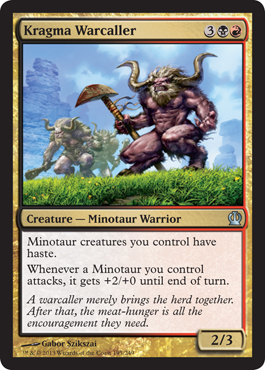 At worst this guy is a 4/3 haste for 5. That doesn't suck in limited, but it sure sucks in constructed, since Minotaur tribal isn't going to happen, as much as I'd like it to. There's a lot of disappointed people who speculated on didgeridoos when they announced there would be Minotaurs in Theros. "There will be support for Minotaur tribal…" there is. It just sucks.
Limited: 3 Constructed: 2
Pharika's Mender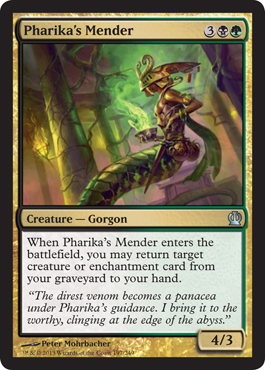 Useful in limited. Not great in constructed.
Limited: 3 Constructed: 2
Psychic Intrusion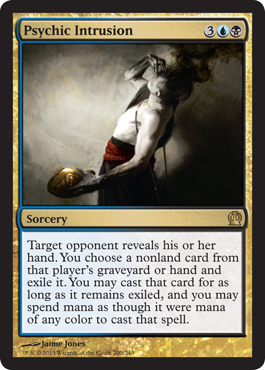 "Good in EDH" is like the politically correct way of saying a card is crap. This is pretty good in EDH
Constructed: 2 Limited: 1
Reaper of the Wilds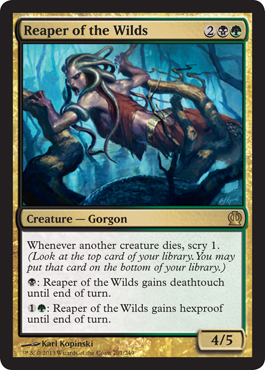 I like this card: hard-ish to kill, does some quality killing of its own, efficient body and a pretty solid triggered ability. I'm going to try it in standard for sure, and windmill slam it in limited and be the guy at the table who everyone looks at because he just windmill slammed a card and kind of looks like a douche. Who's going to look like a douche when I'm swinging with a 4/5 and getting my scry on hard because 1) 4/5s kill stuff and 2) deathtouch kills whatever it wants to and NOT BEING TARGETED BY YOUR REMOVAL? Yeah, who's the douche now? Still me, but who just went 0-2 in that round? Probably me, because I'm a terrible limited player.
Limited 4.5 Constructed 3
Sentry of the Underworld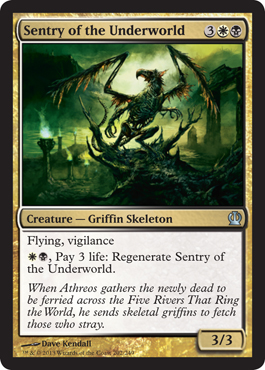 Vigilance, evasion, hard to kill. I'd pick it high. Not powerful in constructed though.
Limited: 3.5 Constructed: 2
Shipwreck Singer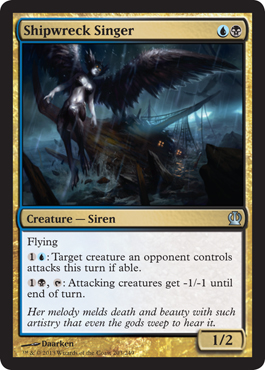 This is pretty badass in limited. Constructed would have loved this back in Innistrad with all those souls lingering around and aristocrats being all hard to kill. It's tough to evaluate how much of an impact this is going to have on constructed but it has potential if there's a lot of X/1 in something popular
Limited: 3.5 Constructed: 2.5
Triad of Fates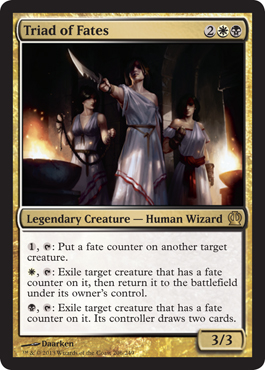 Cool EDH card but kinda shitty for any real format. It takes three turns to do anything. Remember how awesome Lux Cannon was? As an artifact? Without the drawback for destroying? When it could hit any permanent? In a set with proliferate? Yeah. Me neither. Lux Cannon wasn't playable. I'm willing to bet that shitty under-powered lux cannon with a drawback that's easier to remove and isn't really even an efficient creature won't be either. That being said, this is pretty rad in EDH alongside oblivion stone.
Constructed: 2 Limited: 3
Tymaret, the Murder King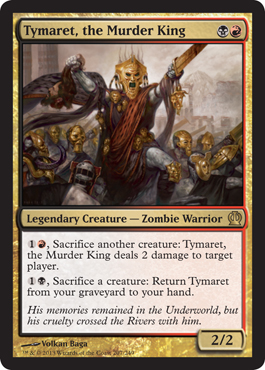 Pyre Zombie was a stone pimp back in Invasion block and this guy is similar. He would be straight up awesome if he could hit creatures as well but I like him as a sac outlet and a tough to get rid of repeatable threat. Has potential for constructed, limited and EDH.
Constructed: 3 Limited: 3.5
Underworld Cerberus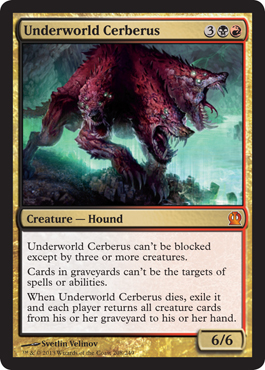 This is pretty threatening. Hard to block and does some work when he connects. His abilities aren't overly useful unless reanimator somehow becomes a thing but even then there's better ways to deal with it and his return all creatures trigger is meh. Could be good, could backfire and reload your opponent's hand. I think there's a lot you'll pick over him in constructed, but in limited, he's pretty much game over.
Constructed: 3 Limited: 4.5
Burnished Hart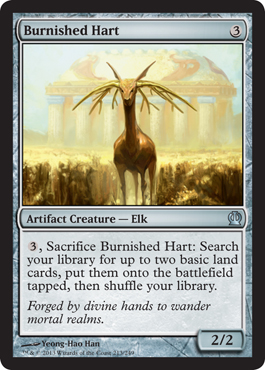 What's this doing here? This isn't a black card! It isn't. But, I do plan on playing it in mono black, since it's the only ramp option for the color.
Limited 2.5 Constructed 2.5
Nykthos, Shrine to Nyx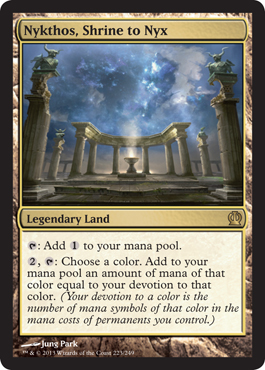 Reviewing this with black because it feels, tastes and looks like Cabal Coffers. Good thing we didn't step in it. Yes, good thing, it's $10. Actually, it's nowhere near as good as Cabal Coffers but it still might be a viable ramp option. With devotion to black 3, this is a Swamp, 4 is Ancient Tomb and 5 is Mishra's Workshop. I'd be surprised to see it do that much work very often though. I think it's over hyped.
Constructed: 2-2.5 Limited: 1.5-2
Temple of Deceit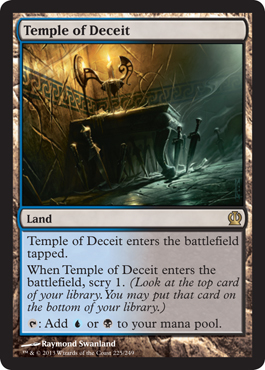 If the scry lands work nicely in any color combination, it's U/B. Better than any of the other ones for sure. This will definitely see play.
Constructed 3 Limited 3
Temple of Silence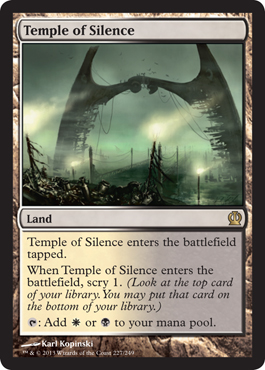 Pretty decent for this color combination depending on how you're doing it; control: great. Aggro: great late game, shitty early game.
Constructed 3 Limited 3
That concludes my review of black and black accessories for Theros. I'm probably wrong about a bunch of things but that happens every time a new set comes out. Remember how everyone though Skaab Ruinator would be a thing? In a couple of months when I'm officially wrong as hell about something, everyone feel free to make fun of me for it.
Other Theros Review Articles:
Red Review: Here.
White Review: Here.
Green Review: Here.
Blue Review: Here.