Welcome back or welcome to the site for the first time. I haven't written in a while but with a new set coming out, I figured it was a good time to come out of my pseudo retirement. Today is the first article of a series where I shall review the cards in Theros, the brand new block. Let's get started shall we?
I will give cards a rating from 1-5 for both constructed and limited formats:
1. This card is basically unplayable.
2. You do not want to play this card, but you can if you have to. (23rd card in a limited deck.)
3. This card is a solid choice most of the time.
4. A fantastic card you will always run.
5. A multi-format all-star (Tarmogoyf, Snapcaster Mage, Deathrite Shaman for example)
White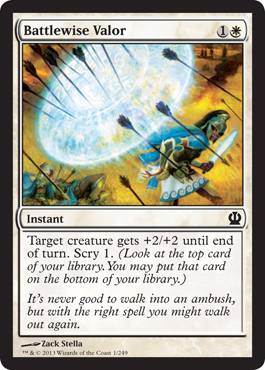 Battlewise Valor
Constructed: 2
Limited: 2.5
So this is a decent combat trick that enables Heroic. Oh and it scrys. Definitely playable in limited but maybe not in constructed.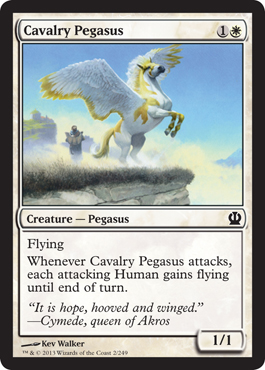 Cavalry Pegasus
Constructed: 1.5
Limited: 2
It flies…so that's good. If you have enough humans for this card in limited it seems great…otherwise it might just be too lackluster. I doubt it is a constructed card.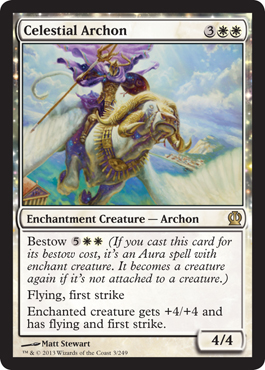 Celestial Archon
Constructed: 2.5
Limited: 4
I don't see it being super successful in constructed formats. The Bestow cost is rather high, but the card by itself is solid. 5cmc for a good body and abilities. It's not splashy but it gets the job done, and in limited this easily can win you the game.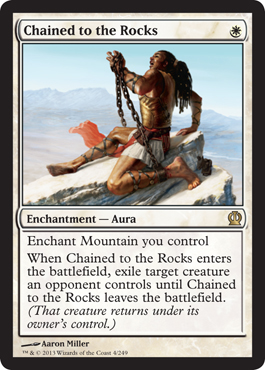 Chained to the Rocks
Constructed: 3
Limited: 4
I really like this card's flavor and its playability. In constructed it's a deck specific Journey to Nowhere for W. In limited this is a premier pseudo-removal spell. This has potential in both formats.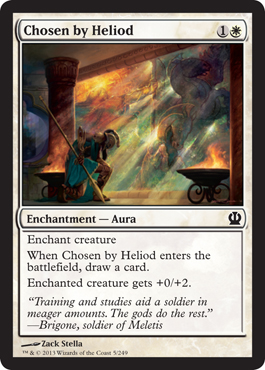 Chosen By Heliod
Constructed: 1.5
Limited: 2-3
With it being a draw spell in white, that is pretty nice. The toughness boost is fine, not amazing but it can trigger Heroic since you target when casting as well as helping your creatures survive battles they shouldn't. Mostly a limited card, I wouldn't recommend it for constructed.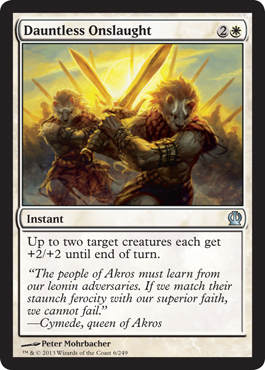 Dauntless Onslaught
Constructed: 1.5
Limited: 3
The "up to" clause on this card is what makes this playable in limited. It doesn't force you to target your opponent's creature if you only have one creature in play.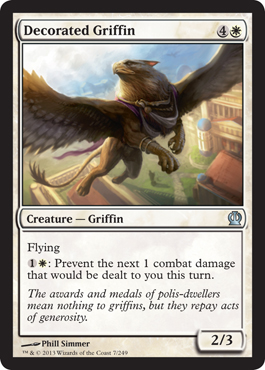 Decorated Griffin
Constructed: 1.5
Limited: 2-3
It flies…and in the late game it prevents damage to you for mana. Nothing too complicated but also not amazing.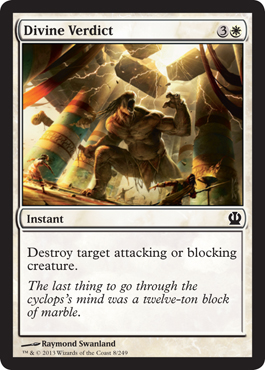 Divine Verdict
Constructed: 2
Limited: 3.5
It is quite good removal in limited, nothing fancy.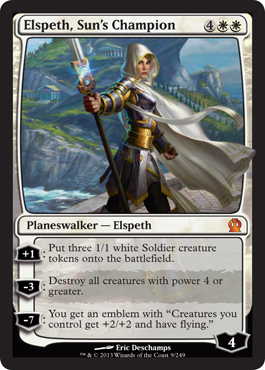 Elspeth, Sun's Champion
Constructed: 4
Limited: 4.5
This card gives me mixed feelings because I like it as a control card, but it isn't the 3cmc Elspeth I was hoping we would get. I will try this card and let you guys know, if it hasn't already done well by the time I write up my playtesting results. I will go on the record and say "She will see play." In limited she wrecks faces because she is a bomby planeswalker. Play her.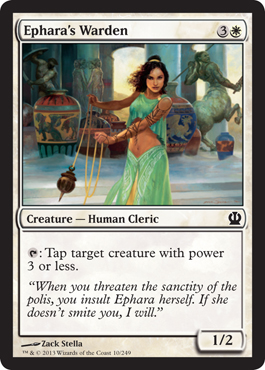 Ephara's Warden
Constructed: 1
Limited: 1.5
Not great…but it can stop smaller attackers. It doesn't stop creatures with tap abilities because they can activate in response.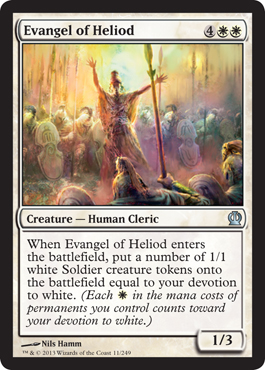 Evangel of Heliod
Constructed: 2.5
Limited: 3
When you cast this card it is either mediocre or absolutely amazing. I think this will be a very good in limited, and who knows…maybe it might sneak it's way into constructed.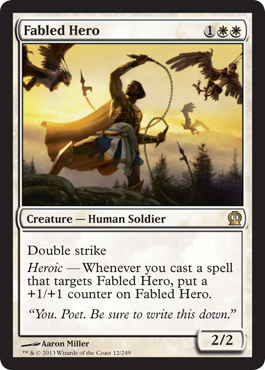 Fabled Hero
Constructed: 3.5
Limited: 4
White Weenie looks like it will most certainly be a deck in standard. This set keeps giving that deck great cards. Nothing fancy about this card, just solid awesome. It gets better if you target it, which might or might not be relevant.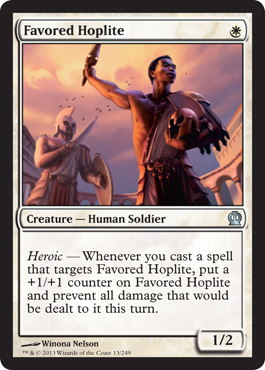 Favored Hoplite
Constructed: 1.5
Limited: 2
This card is really cool, and I really enjoy white cards that can get protection from colors of your choice…but this doesn't do that.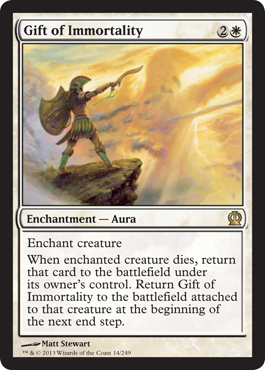 Gift of Immortality
Constructed: 3
Limited: 4
This is a very cool card and has multiple possibilities. Play it with creatures that have come into play abilities and reap the rewards. Or play it on solid creatures that are hard to kill. Or even use it as a reusable sacrifice outlet. In limited, put this on your bomb and watch your opponent cry unless they have an enchantment destruction.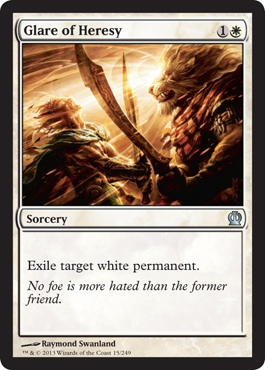 Glare of Heresy
Constructed: 2.5
Limited: 2.5
This is a good sideboard card because it can deal with multiple types of permanents. Good in both constructed and limited sideboards. Wish it was instant though.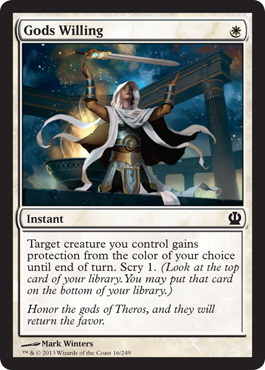 Gods Willing
Constructed: 3
Limited: 3
A decent card that adds to the denial cards white has, like Brave the Elements. Less restrictive but isn't as widespread. The Scry is nice but it doesn't make this card amazing. I wouldn't be relying on these cards unless you manage to get a couple in your limited deck. You can play this like a removal spell in some cases.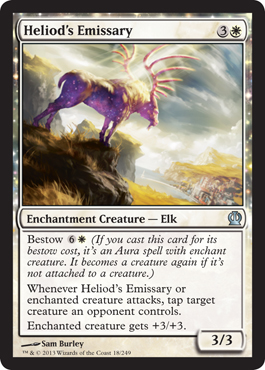 Heliod's Emissary
Constructed: 2
Limited: 2.5
This seems fine in limited. It's not too fancy and isn't flashy.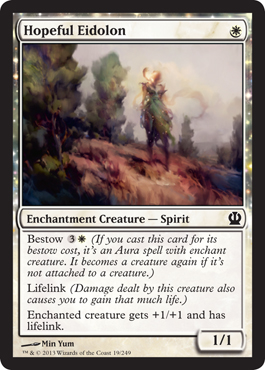 Hopeful Eidolon
Constructed: 2.5
Limited: 2.5
I originally undervalued this card, but I think it may be better than expected. In an aggressive deck, especially if you are playing to an aura theme, this may be quite good. In limited the Bestow is what is important.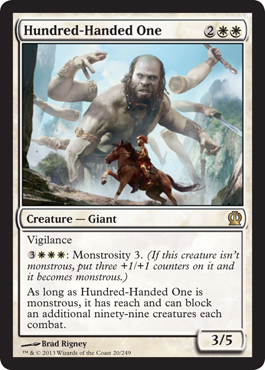 Hundred-Handed One
Constructed: 2.5
Limited: 3
This is a flavorful card but it's unlikely to be a constructed card. EDH players might like it a little more than others. In limited, this card is great. A great body with a solid cmc, AND vigilance. The monstrosity ability is butter on top though because he becomes quite a threat.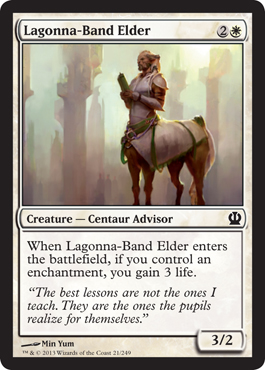 Lagonna-Band Elder
Constructed: 1
Limited: 2
It's an alright card but playing it without the life gain is bad for you because 3cmc for a 3/2 is very sub-par.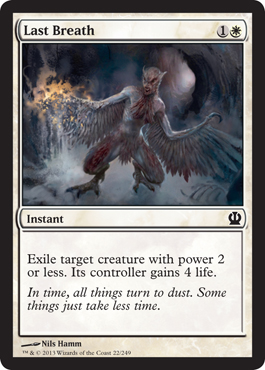 Last Breath
Constructed: 2.5
Limited: 3
This is a pretty decent card and a reprint. It is like a restrictive Swords to Plowshares. Could be a meta call to play this in constructed,and you probably play this every time in limited.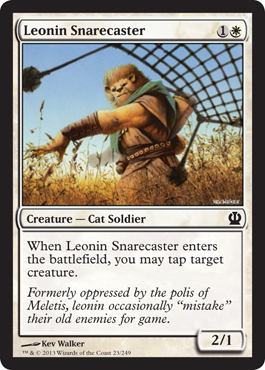 Leonin Snarecaster
Constructed: 1
Limited: 2
It's fine but not great. It can help your creatures get through a pesky blocker but only once. Most aggressive two drops get worse if you can't cast them off of a Burning-Tree Emissary trigger.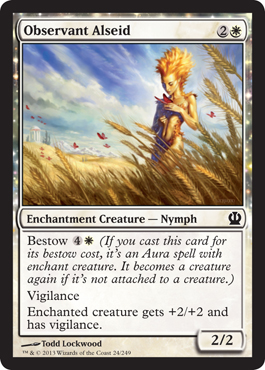 Observant Alseid
Constructed: 1.5
Limited: 2.5
This card is just fine, not impressive though. In limited it's an ok body and Bestow on it is decently costed. I'd play it.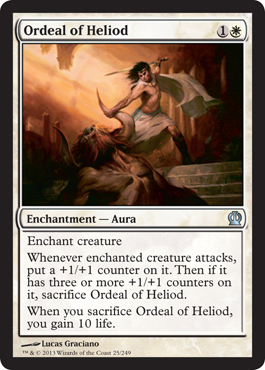 Ordeal of Heliod
Constructed: 1.5
Limited: 2.5
Part of a cycle with similar text, this card is fine. Once your guy stops losing the bonus you get 10 life, which isn't awful but I wish it was a may effect.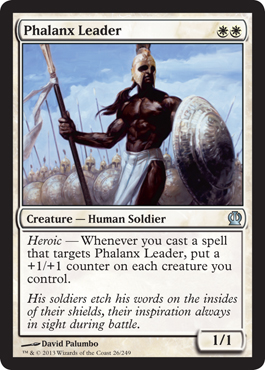 Phalanx Leader
Constructed: 3
Limited: 3-3.5
This card's ability is pretty busted. Granted, it takes a build around but this fits perfectly with the enchantment theme of the block and past cards too. Be glad this doesn't have Hexproof. Play it in limited if you have the cards to support it, otherwise it is just an over costed 1/1.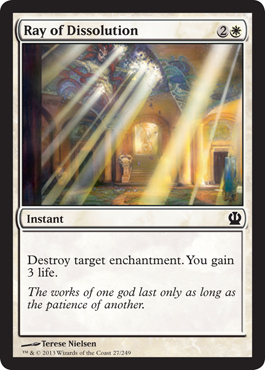 Ray of Dissolution
Constructed: 2.5
Limited: 3
Seems solid in this limited environment, however in constructed there are better options like Wear // Tear, Sundering Growth, or Solemn Offering.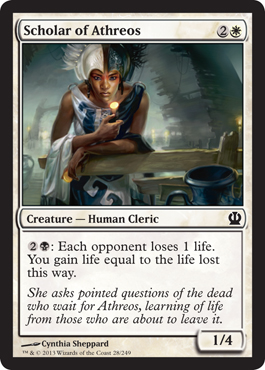 Scholar of Athreos
Constructed: 2.5
Limited: 3
Definitely a way to make your friends mad in a multiplayer game. It blocks well in this limited environment and is a mana sink for later stages of the game.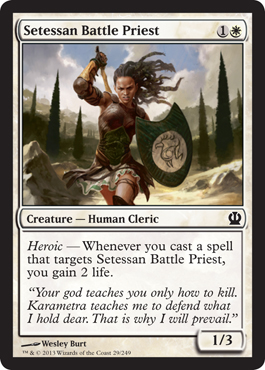 Setessan Battle Priest
Constructed: 1
Limited: 1.5
It's OK but you will likely have better cards to play over this every time. It just doesn't do much.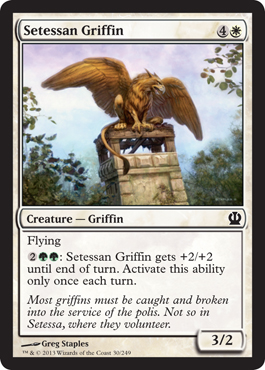 Setessan Griffin
Constructed: 1.5
Limited: 3
This is pretty great IF you are in green too. If not, it is just fine. It's a decent sized flier.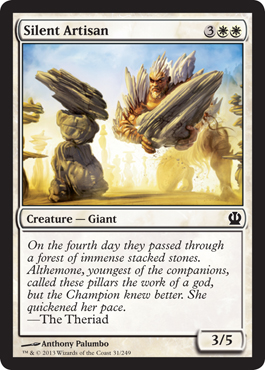 Silent Artisan
Constructed: 1
Limited: 2.5-3
This card is playable in limited and maybe quite good. I think it should have been a 4/5 though.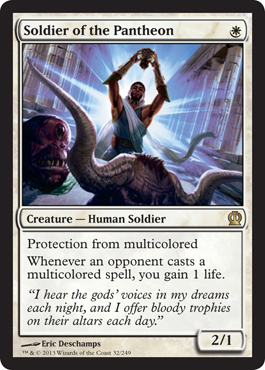 Soldier of the Pantheon
Constructed: 4
Limited: 4
So a better Savannah Lions… I really like it. It's human which is relevant. The protection is great and the life gain is fine. This makes me really want to play mono white.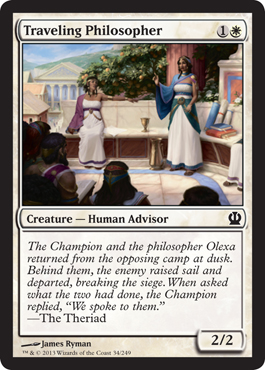 Traveling Philosopher
Constructed: 1
Limited: 2-2.5
It's a white Grisly Bear. Maybe you play it? I see it as more of a 23rd card kind of situation. Depending on your pool you may really need a white bear.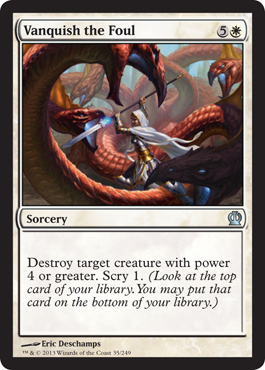 Vanquish the Foul
Constructed: 1
Limited: 2
This really isn't that good. It costs too much for being so restrictive. The Scry 1 doesn't make up for where the card lacks. It won't be played in constructed and in limited it seems as more of a sideboard card. They might not have any cards that this kills. However, if you don't have removal, you play this regardless and side it out if it doesn't affect your opponent.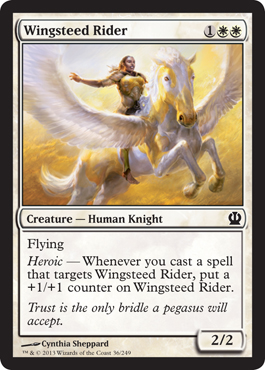 Wingsteed Rider
Constructed: 2
Limited: 3
This is actually quite good for a common. Nothing fancy, but just a solid card in either format. Better in limited though.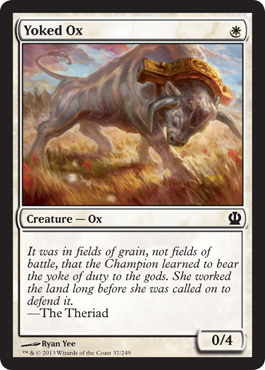 Yoked Ox
Constructed: 5
Limited: 5
The ox says "COME AT ME BRO."
Multicolor White Cards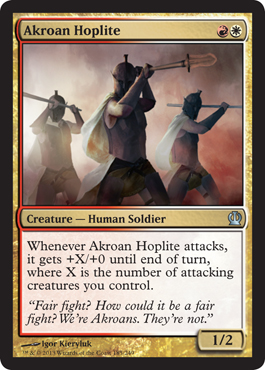 Akroan Hoplite
Constructed: 3
Limited: 3
I believe this to have constructed playability, mostly in standard. I think it's ability can be really strong in all-in aggressive decks. In limited I still think it is good, but the contents of your card pool will decide how good it really is.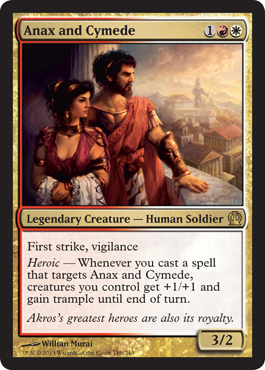 Anax and Cymede
Constructed: 3
Limited: 4
This is another really solid W/R attacker in both constructed and limited. 3 mana for First Strike as well as Vigilance is pretty absurd. The Heroic ability is the cherry on top. If a WR deck that revolves around Heroic is going to be good, I think this will be the top end/finisher of that deck.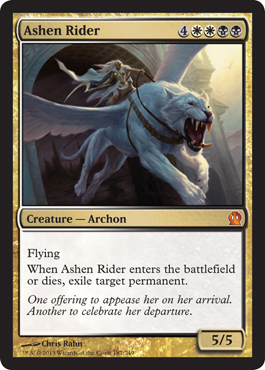 Ashen Rider
Constructed: 4
Limited: 4
This is the new and improved Angel of Despair. This is a very awesome reanimation target. Luckily R&D made the second clause of activation "die" and not "leaves the battlefield." Otherwise that could have been even more insane with cards like Restoration Angel. Obviously great in limited and will most definitely see play in constructed.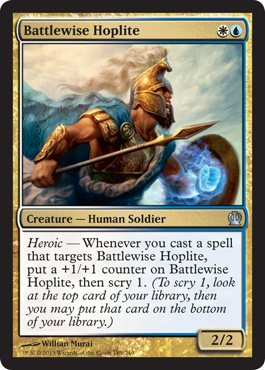 Battlewise Hoplite
Constructed: 3.5
Limited: 3.5
THIS CARD IS INSANE…This card is going places…at least I hope haha. Its ability is so very strong. The fact that the Heroic ability is +1/+1 counters, and not an "until of end of turn" effect, is super important. On top of this, you also get to Scry 1. I cannot wait to try this card.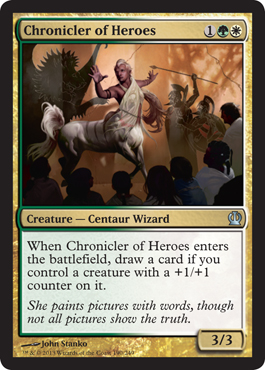 Chronicler of Heroes
Constructed: 2
Limited: 2.5
This might be really awesome if you build your deck correctly. Replacing itself is really great, and even if it doesn't it is still a 3/3 for 3cmc.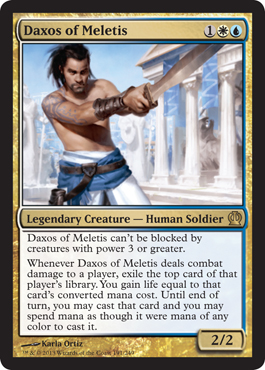 Daxos of Meletis
Constructed: 3-4
Limited: 3.5
This is an interesting card… I'm not sure how I feel about it. I like the pseudo-unblockable ability, and his other ability is like Nightveil Specter but you also gain life. Oh and then you can cast that card even if it isn't in your colors. This is really good in limited, especially if you suit it up with an aura. This may be very good in constructed or it may turn out to be a non-card.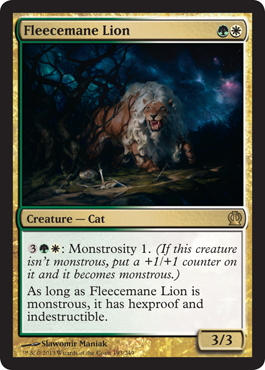 Fleecemane Lion
Constructed: 3.5
Limited: 3.5
Its a Watchwolf with Monstrosity…that can be become Hexproof and Indestructible. This card is very good in both limited and constructed. It's simple and quite playable.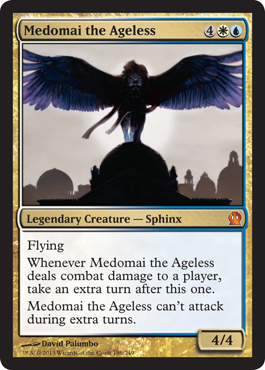 Medomai the Ageless
Constructed: 3
Limited: 4
This goes right into W/U control decks. An awesome card that will probably see play. It doesn't end the game by itself but it sure helps you get there faster.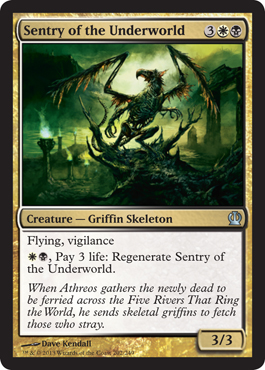 Sentry of the Underworld
Constructed: 2
Limited: 4
This card is pretty insane in limited. Regeneration in limited is almost always good…and this card also has evasion as well as vigilance. Maybe not a constructed card but in limited you definitely want to play this.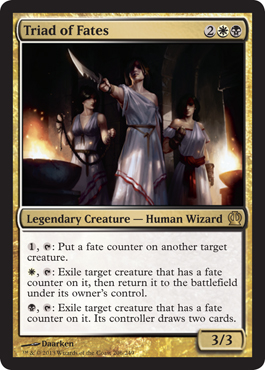 Triad of Fates
Constructed: 2
Limited: 3
I believe this card will see play in constructed, only because i'm hopeful. I really like the exile ability because it reminds me of Oblation. If there is a way to uptap this effectively, this might be insane. The limited format is looking to be rather slow, or at least at first glance to me. This may be pretty good here.
That wraps up my review of the white cards in Theros.
As always, email, tweet, or comment. They are always welcome. Let me know what you thought or if you agreed/disagreed with me.
keithcodyj@limitedmagic.com
@keithcodyj on Twitter
Other Theros Review Articles:
Red Review: Here.
Black Review: Here.
Green Review: Here.
Blue Review: Here.