We all know each and every god of Theros (and their weapons) are going to be playable in limited, but what about in standard? We will be employing the help of our limitedmagic.com authors to pick apart each god and their weapons for standard play.
First up is Heliod, God of the Sun: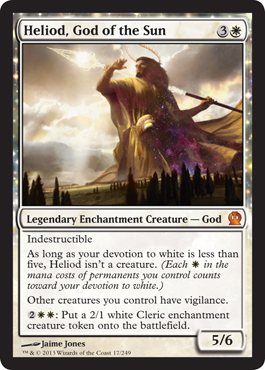 Do you see a sunny future for this white god?
Mandiiene:
He won't see play in standard because he's arguably the weakest of the gods. Whites typical partners (Blue and Green) have better gods for those colour combinations.
James:
Not my favorite: I think his static ability isn't overly strong and his activated ability is expensive for what it does. Great in limited but not a thing in constructed. I might be wrong though, since I never play the type of deck that would use him.
Cody:
So I do think this is playable but I am unsure what deck you want this in. I don't think control needs him because you are board wiping and if you are going to tap lands on your turn, the card better be a wipe or an immediate win condition. This card is neither of those. Aggro might want it because it gives stability in the later game and a big bomb if you get his creature mode active.
Adam:
This is very similar to Sacred Mesa except we don't have Earthcraft to make an infinite amount of tokens. I'm not sure he will see a lot of play in constructed. 4 mana, 2 of it white, to make a cleric is a little expensive and because it costs 2 white to make one it isn't splashable. Paying 4 mana to give all your creatures vigilance isn't worth it even if you can turn it into a creature.
What about the Spear of Heliod: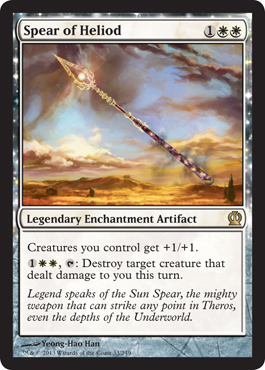 Is this a Searing Spear, or a wet noodle?
Mandiiene:
Anthem effects are typically good, and they normally allow a White Weenie deck to shake itself out, but as this anthem is legendary I think its unlikely that it will see play in a Tier 1 deck.
James:
I think the spear is better than Heliod but it's not amazing. In limited it's definitely good but my comments for Heliod are relevant here too. Then again, I'm not big on Glorious Anthem effects.
Cody:
I like this a ton because it is a flavorful Glorious Anthem. However, you can't stack these on board like an Anthem. The kill part is cool and maybe good in aggro mirrors.
Adam:
I think this card may actually see standard play.
Next up is the blue god, Thassa, God of the Sea: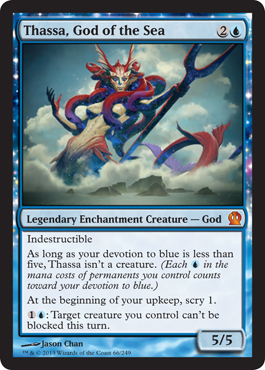 Is this card a vast ocean of possibilities, or just a wet dream?
Mandiiene:
This care is going to see play in standard.  Thassa is agressively costed to come down early, and provides a steady stream of card selection.  I think we will see her in decks coupled with Nightveil Specter to activate her devotion easily.  (Her Unblocable ability works really well with the card advantage provided by the specter.
James:
I really like it. Honestly I'd consider playing it just as an enchantment. The fact that it's sometimes a creature is just gravy. Definitely playable.
Cody:
I think she has a home in control decks because scrying every turn is so powerful. Even if she never becomes a creature, she will take you to Value Town: population you. Having the option to give something unblockable is cool too but probably not for the control deck. If this finds a home in aggro or midrange, the unlockable part will be relevant in many matchups.
Adam:
I think this card could see a lot of play. I love the Scry mechanic and being able to do it every turn is fantastic. Add the ability to make your creatures unblockable and you have a very constructed playable card.
What do we think of (Joe)Bident of Thassa: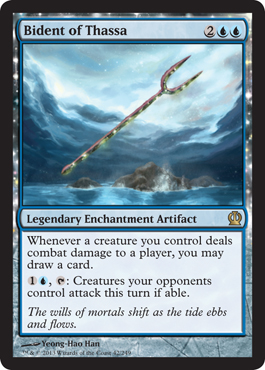 Vice president of control, or mayor of Timmyville?
Mandiiene:
Blue is not an aggro colour.  this won't make a tier one standard deck.  I'd be more interested to see if it's agressively costed enough to allow a Mono-Blue Merfolk deck to appear in modern.
James:
I think it's pretty good, expensive, but it can really swing a game.
Cody:
So it's part Coastal Piracy with a forced attack tacked onto it. I think this may be more of an EDH card rather than standard. I'm honestly not sure what I would put this in or what deck wants this card.
Adam:
This is going to be awesome in Commander and I would like to see it played in standard but control doesn't tend to tap out on turn 4 and I would rather have this on the field on turn 3.
Next up is the Black god Erebos, God of the Dead: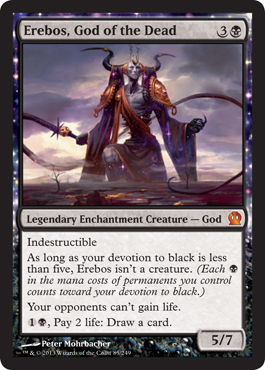 Are you devoted to this card, or do you agree that your opponents should get a life?
Mandiiene:
Erebros is amazing, he provides a steady stream of card advantage and also turns off half of sphinx's revalation.  I can't decide if he belongs better in my WB Brew that I've been toying with, or just in my Mono-Black Control!
James:
I think this guy is pretty awesome, but I do worry that his card drawing ability is outclassed by Underworld Connections and that shutting off life gain isn't what it used to be. It'll be interesting to see how the new format stabilizes but I doubt people are going to want to spend 4x the resources to get 2x the benefit of Underworld Connections. That being said, I'm going to try to make it work because it's a solidly badass card with some definite potential.
Cody:
This might be sideboard against Esper control decks to deal with the life gain of Sphinx's Revelation, whether it's the mirror or as an aggro deck. The draw is nice but 2 life for 1 card is a steep price to pay.
Adam:
Stopping your opponents life gain is almost good enough but being able to draw cards makes him awesome. I could see this being played a lot.
What about the Whip of Erebos: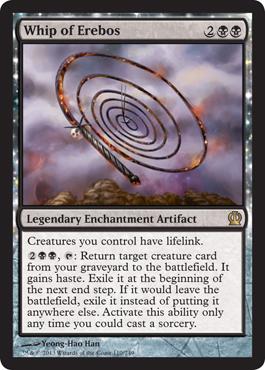 Is anyone Indiana Jones-ing to play this card, or is it bull?
Mandiiene:
I love this card. There are just enough graveyard effects available in standard that reanimator may make some comeback.  If it doesn't support a full on reanimator deck, it still has a home in an Orzhov deck in standard running Erebros and the Archangel of Thune.  Plus, did you realize that if you reanimate an Obzedat, Ghost Council with the whip, and then exile the council with its own replacement ability at the end of the turn, that your council will come back again next turn?  Its exile effect supersedes the whip!  Now thats some recurssion!!
James:
Some kinky and useful reanimation fun. I'll be surprised if this doesn't see standard play. I can't wait to try this one out.
Cody:
There are a few good reanimator targets and a decent amount of ways to get creatures in the graveyard (in standard). I think this card is cool and the Lifelink is really good. I believe it will see play.
Adam:
All your creatures have lifelink. That right there makes this awesome, but you can also bring back creatures for another chance at damage. I hope to see this card played in a few decks but at 4 mana it may not make the cut.
Next is the Red god Purphoros, God of the Forge: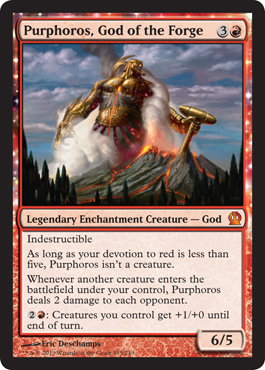 Is this a sharp edge in standard, or a rusty spoon?
Mandiiene:
Purphoros is a deadly threat in standard.  The mono red deck that is currently floating around standard with Young Pyromancer and Chandra's Phoenix is going to love this guy.  There's enough early pressure in that deck that when he comes down each additional creature starts hurting your opponent. At that point it's all going to be over but the dancing.
James:
I think this is the best of the gods: he combos wonderfully with Young Pyromancer and is all around pretty solid. Can't wait to try it out.
Cody:
Everyone is really going crazy for this card because they think it is going to be the next Hellrider or something similar. I think otherwise. You have to hit your drops perfectly to get this online, not to mention not get hit by a removal spell on any or all of your creatures. He might be better in midrange just to deal extra damage for playing dudes.
Adam:
This card is absolutely amazing. I can see it getting played in a lot of decks because it's splashable. The static ability of this god is by far the best. I'm sure there will be ways of breaking it and I'm going to do my best to find more.
What of his weapon dear heroes? The Hammer of Purphoros: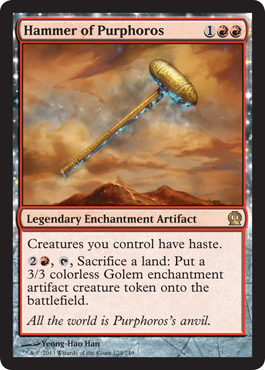 What do you think, "Please Hammer, don't Hurt 'Em (1990)" or "Better Run Run (2010)".
Mandiiene:
The hammer's an excellent weapon, and haste is a powerful tool. The deck most likely to play this is the Gruul aggro deck.  Most of the hasty creatures (Hellrider / Flinthoof Boar) are rotating out, but I can see this sending a Kalonian Hydra into the red zone as an 8/8 the turn it is cast
James:
I really like this. Late game, red doesn't care about lands, a 3/3 repeatable creature with haste is pretty solid.
Cody:
People are really undervaluing this card…which might be right. Sure you can do something with your extra lands in mono red but what if you still haven't killed them yet? Then you're down lands. I don't think it's unplayable but it is not an amazing card.
Adam:
Haste is always good. Your opponent generally has a turn to deal with most creatures but this takes that away. I'm not 100% sure that it will see play but you never know.
Next up, the jolly green giant god Nylea, God of the Hunt: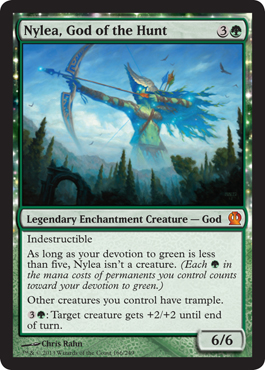 Will this card cream your foes or just your corn?
Mandiiene:
Mono-green is losing a lot of its mana acceleration elves and the big threat of Craterhoof Behemoth with the rotation, but one thing is important to remember. When you're using Garruk, Caller of Beasts's ability Nylea goes directly into your hand with all your other creatures.  If any deck has a home for her it will be this one.
James:
Unsurprisingly, this is my least favourite of the gods. That being said, I think green will have the easiest time reaching 5 devotion so I could definitely see it getting played. In limited though, it's nuts.
Cody:
I think she is quite playable because green is a color that takes devotion seriously. Green creatures are big and can really take advantage of the trample this card gives. Pumping a creature is quite awesome as well, and can make combat tricky for your opponent in a similar way that Kessig Wolf Run did.
Adam:
This is my least favorite god. Giving everything trample is mediocre and having to pay 4 mana to pump 1 creature is also subpar. It is splashable for both the cost and ability but I can't see anyone wanting to do it.
And finally the green weapon Bow of Nylea: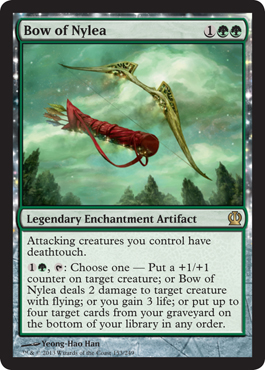 Will this card give you a shot at victory, or are the arrows pointless?
Mandiiene:
I'm doubtful that the bow makes a T1 standard deck.  It's versitile but not really excellent at anything in particular. I will tell you one thing though; if for some reason a Dimir Mill deck makes a viable appearance in standard this weapon will be one of the first cards to make green sideboards to fight that.
James:
This is pretty sweet. It reminds me of Umezawa's Jitte in that it's a swiss army knife type artifact. It is nowhere close in power to everyone's favourite legendary equipment, but still, I like it. The activated ability is awesome and death touch is a pretty nice thing to give your team.
Cody:
So this card is insane and the best of all the weapons. So many abilities gives the player flexibility. Flexibility is your friend. It has even more abilities than Jace, the Mind Sculptor or Umezawa's Jitte. Just let that sink in.
Adam:
Deathtouch on your attacking creatures makes it very difficult for your opponent to block profitably. Add an activated ability that gives you not 1 but 4 choices is amazing. I won't be surprised to see this card pop up in a few decks.